Details
Start point
Speak to the Cook in the kitchen of Lumbridge Castle.
Official difficulty
Novice
Description
The Lumbridge Castle cook is in a mess. It is the Duke of Lumbridge's birthday and the cook is making the cake.

He needs a lot of ingredients and doesn't have much time.

Length
Short
Requirements
None
Items required

An empty pot (obtainable during the quest)
A bucket (obtainable during the quest)
An egg (obtainable during the quest)

Alternatively, bring a bucket of milk, a pot of flour, and an egg to skip a majority of the quest.

Enemies to defeat
None
Walkthrough
Getting started
Note: you can skip the intended process by bringing a pot of flour, a bucket of milk, and an egg with you and talking to the Cook again, completing the quest in seconds.
Obtaining the ingredients
Head to the Lumbridge cow field.
Use a bucket on one of the dairy cows.
Head to the chicken farm north-west of the cow field.
Take an egg from one of the spawns on the ground.
Head to the mill across the river from the chicken farm and pick some grain from outside.
Climb up to the top floor of the mill and use the grain with the hopper then pull the lever.
Climb back down and take the flour from the flour bin with an empty pot.
Finishing up
Report back to the cook.
Quest complete!
Rewards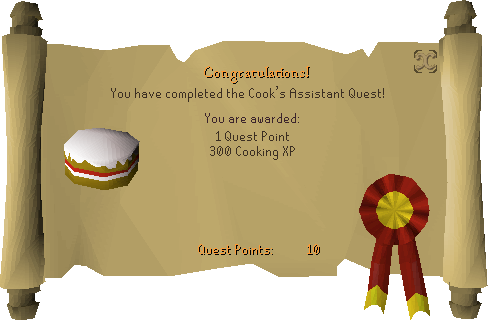 Required for completing
The completion of Cook's Assistant is a requirement to complete the following:
NPCs

Items

Reward

Locations

Related

Quick Guide