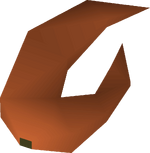 A crab claw is a piece of armour that is worn in the gloves slot. To obtain this item, players must have 15 Crafting and have access to the Mogre Camp, unlocked when players have partially completed Recipe for Disaster and kill crabs until they drop a fresh crab claw, and then use a chisel on it. If successful, the player is granted 32.5 Crafting experience. Failing to do so produces a Broken crab claw. There are no level requirements to wear the crab claw.
Players who have completed Cabin Fever, and have a book o' piracy in their inventory, can pay Patchy 500 coins to attach a crab claw and pirate's hook to make a Crabclaw hook.
Eyepatches

Bandana eyepatch •  Hat eyepatch •  Pirate hat & patch •  Double eye patch

Other

 Beret mask •  Cavalier mask •  Crabclaw hook •  Top hat & monocle •  Partyhat & specs

Components

 Right eye patch •  Left eye patch • Pirate bandana •  Pirate's hat •  Big pirate hat •  Mime mask •  Black beret •  Highwayman mask •  Black cavalier •  Crab claw •  Pirate's hook •  Blue partyhat •  Sagacious spectacles •  Top hat •  Monocle
Subquest of Recipe for Disaster

NPCs

Pirate Pete • Mogre Guard • Murphy • Nung

Monsters

Items

Crab parts

 Fresh crab claw •  Broken crab claw •  Crab claw •  Fresh crab shell •  Broken crab shell •  Crab helmet

Fishcakes & ingredients

 Breadcrumbs •  Crab meat •  Ground cod •  Ground crab meat •  Burnt crab meat •  Cooked crab meat •  Ground kelp •  Kelp •  Raw fishcake •  Cooked fishcake •  Burnt fishcake

Locations

Music
Community content is available under
CC-BY-SA
unless otherwise noted.