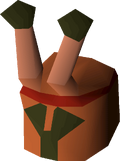 A crab helmet is a piece of armour. To obtain this item, players must have 15 Crafting and have access to the Mogre Camp, unlocked when players have partially completed Recipe for Disaster and kill crabs until they drop a fresh crab shell, and then use a chisel on it. If successful, the player is granted 32.5 Crafting experience. Failing to do so produces a Broken crab shell. There are no level requirements to wear the crab helmet.
The crab helmet has identical stats to the iron med helm, except the slash defence and stab defence stats are switched.
Subquest of Recipe for Disaster

NPCs

Pirate Pete • Mogre Guard • Murphy • Nung

Monsters

Items

Crab parts

 Fresh crab claw •  Broken crab claw •  Crab claw •  Fresh crab shell •  Broken crab shell •  Crab helmet

Fishcakes & ingredients

 Breadcrumbs •  Crab meat •  Ground cod •  Ground crab meat •  Burnt crab meat •  Cooked crab meat •  Ground kelp •  Kelp •  Raw fishcake •  Cooked fishcake •  Burnt fishcake

Locations

Music
Community content is available under
CC-BY-SA
unless otherwise noted.