This article is about the scenery object found scattered around Gielinor. For other uses, see
Crate (disambiguation)
.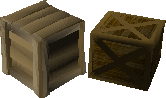 Crates can be found in many buildings in RuneScape. Crates serve almost no purpose, apart from being used during some Treasure Trails. Clues for Treasure Trails are often hidden inside of them. For example, a clue might say something such as "Search the crate in a house in Varrock." Crates are also used in a few quests.
Strangely, crates cannot be shot over using ranged or magic. This is annoying, considering they would offer quite a few safe spots otherwise.
Crates have a "search" option. When searched, crates used to give random items, such as damaged armour, broken arrows, broken staffs, broken glass, leather boots, leather gloves, and small amounts of coins. Now searching crates does not have a purpose.
Crates can be found in nearly every city, town, or village in RuneScape. Some areas with a particularly large number of crates include:
Trivia
Community content is available under
CC-BY-SA
unless otherwise noted.