The crimson swift is a red bird that can be caught using the Hunter skill, granting the player 34 Hunter experience. Crimson Swifts are caught using bird snares at level 1 Hunter.
Location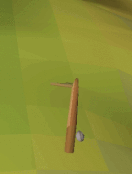 The crimson swift inhabits the Feldip Jungle beside the eastern shoreline.
Description
"
The crimson swift is a tropical bird that typically lives in dense jungle areas. Subtlety is not one of this bird's strong points, its striking red plumage ensuring it will be visible wherever it goes, making it a popular first bird for hunters and spotters alike.
"
 
Birds

 Crimson swift •  Golden warbler •  Copper longtail •  Cerulean twitch •  Tropical wagtail

Butterflies

 Ruby harvest (item) •  Sapphire glacialis (item) •  Snowy knight (item) •  Black warlock (item)

Implings

 Baby •  Young •  Gourmet •  Earth •  Essence •  Eclectic •  Nature •  Magpie •  Ninja •  Dragon •  Lucky

Kebbits

 Polar •  Common •  Feldip Weasel •  Desert Devil •  Wild •  Barb-tailed  Prickly •  Spotted •  Razor-backed •  Sabre-toothed •  Dark •  Dashing

Salamanders

 Swamp lizard•  Orange •  Red •  Black

Chinchompas

Other

 Ferret •  White rabbit •  Spined larupia •  Horned graahk •  Fish shoal •  Sabre-toothed kyatt •  Maniacal monkey •  Imp •  Herbiboar
Community content is available under
CC-BY-SA
unless otherwise noted.