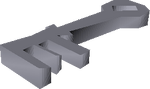 The crystal key is used to open the crystal chest located inside a house in Taverley. It is created by combining a tooth half of key with a loop half of key, displaying the message "You join the two halves of the key together." The crystal key can only be used on the chest once. After it is used, it disappears. Some notable items that can be obtained from using one key are 3 runite bars, rune platelegs or a crystal key half. The chest has a 100% chance of giving an uncut dragonstone.
Tooth and loop halves can be obtained as rewards from Barrows, the Gnome Restaurant minigame, Managing Miscellania, Treasure Trails and random events.
This key may not be used with the steel key ring, which is only for reusable keys.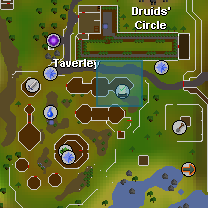 Dropping monsters
Steel key ring keys

 Ancestral •  Battered •  Bone (Shilo Village) •  Brass •  Crystal-mine •  Dusty •  Enchanted •  Maze •  Metal •  Shiny •  Weapon store •  Wrought iron •  New

H.A.M.

Shade keys

| | |
| --- | --- |
| Bronze | |
| Steel | |
| Black | |
| Silver | |

Quest keys

 A key (Tree Gnome Village dungeon) •  A key (Waterfall Dungeon) •  Small •  Ancient •  Bedabin •  Bone (Ghosts Ahoy) •  Bronze (Recruitment Drive) •  Bronze (Prince Ali Rescue) •  Cavern •  Cell door •  Cell key 1 •  Cell key 2 •  Chest (Digsite) •  Chest (Ghosts Ahoy) •  Chest (Hazeel Cult) •  Chest (Pirate's Treasure) •  Display cabinet •  Door key (Witch's House) •  Door key (Darkness of Hallowvale) •  Dragon •  Emerald •  Frozen •  Glough's •  Goblin kitchen •  Golden •  Grimy •  Grip's keyring •  Iron •  Key (Biohazard) •  Key (Elemental Workshop II) •  Key (Ernest the Chicken) •  Key (Melzar's Maze) •  Key (Olaf's Quest) •  Key (The Lost Tribe) •  Key (Witch's House) •  Keys (The Feud) •  Khazard cell •  Lighthouse •  Manor •  Miscellaneous •  Prison (Troll Stronghold) •  Ruby •  Sapphire •  Seer's •  Shed •  Silverlight (Captain Rovin) •  Silverlight (Sir Prysin) •  Silverlight (Wizard Traiborn) •  Storeroom •  Tarnished •  Strange implement •  Temple library •  Toban's •  Tower •  Warm •  Zealot's

Others

 Bank •  Bloody •  Bloodier •  Brittle •  Crystal •  Tooth half •  Loop half •  Ecumenical •  Giant •  Jail •  Mossy •  Muddy •  Ogre coffin •  Old •  Prison •  Sinister •  Shortcut •  Treasure Trails •  Useless •  Vault