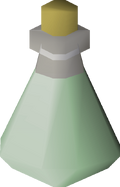 Cupric sulfate is one of the chemicals that is obtained by examining cupboards during the Miss Cheevers challenge as part of the Recruitment Drive quest.
Trivia
Cupric sulfate is a salt better known as copper(II) sulphate, with the chemical formula CuSO4. And is a white powder. It's often used as a reagent to detect water since the colour of this compound changes from white to blue.
NPCs

Sir Amik Varze • Sir Tiffy Cashien • Lady Table • Sir Kuam Ferentse • Sir Spishyus • Miss Cheevers • Sir Ren Itchood • Ms. Hynn Terprett • Sir Tinley

Enemies

Sir Leye

Items

 Grain •  Fox •  Chicken •  Cupric sulfate •  Acetic acid •  Gypsum •  Sodium chloride •  Nitrous oxide •  Vial of liquid •  Tin ore powder •  Cupric ore powder •  Metal spade •  Metal spade (head) •  Alchemical notes •  Bronze key •  Chisel •  Bronze wire •  Shears •  Magnet •  Knife •  ??? mixture •  Makeover voucher •  Hourglass

Tin

 Empty •  Gypsum •  Hardening •  Impression •  Tin •  Copper •  Tin and copper •  Key •  Strange

Initiate armour

Music

Related
Community content is available under
CC-BY-SA
unless otherwise noted.