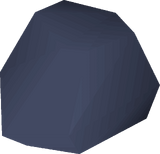 A daconia rock is a magical rock that has been hidden in the roots of the Grand Tree in order to poison it.
The Daconia rocks were created by Hazelmere - allegedly as a precaution in case the Grand Tree should grow out of control, and are the only thing that can kill it. Players discover his precaution has been subverted in The Grand Tree quest.
Players find and remove one of these stones from the roots of the Grand Tree as the ultimate goal of The Grand Tree quest. Removing the last Daconia rock heals the Grand Tree and you get your reward.
You find out about the rocks by talking to Hazelmere. You will not understand him, but eventually you will communicate. He will take your bark sample, and after examining it he will give you a message. When translated using the translation book it reads:
"
A man came to me with the King's seal, I gave the man Daconia rocks, and Daconia rocks will kill trees!
"
 
NPCs

King Narnode Shareen • Hazelmere • Glough • Charlie • Foreman • Anita • Femi

Items

 Bark sample •  Translation book •  Hazelmere's scroll •  Lumber order •  Glough's key •  Glough's journal •  Invasion plans •  Daconia rock  Twigs

Locations

Music

Miscellaneous
Community content is available under
CC-BY-SA
unless otherwise noted.