Dad is an abnormally large troll that players must fight during the Troll Stronghold quest. Dad can be re-fought in the Nightmare Zone minigame after the player has completed Troll Stronghold.
Since nearly all trolls are named after the thing they first ate, Dad got his name from eating (or trying to eat) his father. This is further confirmed by Dad himself, as Dad replies "Troll named after first thing try to eat!" if a player asks about his name. He challenges players, either doing Troll Stronghold or not, to fight him in the Troll arena so players can pass him and have access to the northern side of Troll Country, including the God Wars Dungeon.
He will stop the player from attacking just before he dies to ask you to spare his life. It is recommended that you spare his life, because if you choose to kill him after he has surrendered, he will drop Big bones and you may continue, but all the Troll spectators in the arena will become aggressive towards you and will try to kill you, so if you kill him, be ready to run to the northern gate. If you just let him live, he will allow you to pass through the gate anyway, and the troll spectators won't become aggressive.
Strategy
Dad is larger and stronger than normal Trolls, so much that he actually wields a large, hollow tree trunk in battle. He is very powerful and can hit into the high 20s. His hits are slow, but fast at times. When he hits there is a 1/3 chance that he will do a giant swing that sends player flying through the air, knocking them back and momentarily stunning them. Protect from Melee is recommended when fighting him. Despite his strength, Dad is notable for being one of two non-Aggressive trolls which can be fought, the others being Troll spectators. You should stay near a wall while fighting him as this prevents his giant swing from knocking you back, although it will still stun.
Dad is unable to walk through players, so one possible strategy is to have a friend stand in his way so he can't get close enough to attack.
Once Dad is defeated, the player can no longer attack him.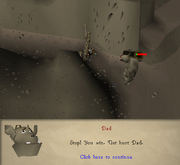 Mountain trolls

| | |
| --- | --- |
| NPCs | Aga • Ug • Burntmeat • My Arm • Drunken Dwarf's Leg • Tilt • Flippa • Ash • Dung • Mushroom |
| Monsters | Dad • Arrg • Kob • Pee Hat • Kraka • Stick • Rock • Berry • Twig • Mountain troll • Thrower troll • Troll general • Troll spectator |

Aquatic trolls

River troll • Sea troll • Sea Troll General • Sea Troll Queen

Ice Trolls

Weiss trolls

Boulder • Butterfly • Don't Know What • Driftwood • Goat Poo • Icicle • Mother • Odd Mushroom • Odd Stone • Pebble • Root • Snowflake • Squirrel • Wolfbone • Yellow Snow
Bosses

Agrith-Naar • Agrith-Na-Na • Arrg • Barrelchest • Black demon • Black Knight Titan • Bouncer • Chronozon • Corrupt Lizardman • Corsair Traitor • Count Draynor • Culinaromancer • Dad • Dagannoth mother • Damis • Dessourt • Dessous • Elvarg • The Everlasting • Evil Chicken • Fareed • Flambeed • Gelatinnoth Mother • Giant Roc • Giant scarab • Glod • Ice Troll King • The Inadequacy • Jungle Demon • Kamil • Karamel • The Kendal • Khazard warlord • King Roald • Me • Moss giant • Nazastarool • Nezikchened • Sand Snake • Skeleton Hellhound • Slagilith • Tanglefoot • Tree spirit • Treus Dayth • The Untouchable • Witch's experiment

Rewards

| | |
| --- | --- |
| Resources |  Snape grass •  Red spiders' eggs •  Flax •  Bucket of sand •  Potato cactus •  Seaweed •  Dragon scale dust •  Compost potion •  Herb box •  Vial of water •  Scroll of redirection |
| Upgrades |  Black mask (imbued) •  Slayer helmet (imbued) •  Salve amulet (imbued) •  Salve amulet (e) (imbued) •  Ring of suffering (imbued) •  Berserker ring (imbued) •  Warrior ring (imbued) •  Archers ring (imbued) •  Seers ring (imbued) •  Tyrannical ring (imbued) •  Treasonous ring (imbued) •  Ring of the gods (imbued) •  Granite ring (imbued) •  Crystal bow •  Crystal shield •  Crystal halberd |
| Benefits | |
Community content is available under
CC-BY-SA
unless otherwise noted.