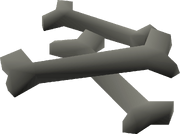 Dagannoth bones are associated with the Prayer skill. They are dropped by Dagannoth Rex, Dagannoth Prime, and Dagannoth Supreme.
Dagannoth bones give 125 Prayer experience when buried. This is increased to 437.5 experience when using a gilded altar with both burners lit or 500 experience when using the ectofuntus.
If players have completed the elite Fremennik Diary, the bones will be dropped as bank notes.
Dropping monsters
Standard bones
Draconic bones

 Baby dragon •  Dragon •  Wyvern •  Lava dragon •  Superior

Monkey bones

 Karamjan •  Small zombie •  Large zombie •  Gorilla •  Bearded gorilla •  Small ninja •  Medium ninja •  Skeleton gorilla

Ogre bones

 Jogre (Burnt) (Pasty) (Marinated) •  Zogre •  Fayrg •  Raurg •  Ourg

Enriched bones

Special bones

 Curved •  Long •  Chewed •  Mangled •  Shaikahan •  Sheep (1) (2) (3) (4)