The Desert Diary is a set of achievement diaries relating to the Kharidian Desert and its surrounding area, released on 5 March 2015.
To begin the diaries, you must speak to Jarr found at Shantay Pass. He is marked by a green star icon File:Task map icon.png on the minimap.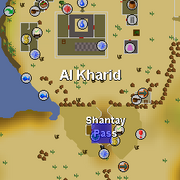 To complete all of the tasks, players will need the stats shown to the right.
Please note you must do the easy tasks first in order to claim rewards from medium, hard or elite.
To begin the diaries, you must speak to Jarr found at the Shanty Pass. He is marked by a green star icon  on the minimap.
Easy
Rewards
Medium
Task
Quest(s) Needed
Skill(s)

Needed

Items Needed
1. Climb to the summit of the Agility Pyramid.
None
30
Waterskins and Desert robes recommended
2. Slay a Desert lizard.
None
22
Ice cooler
3. Catch an orange salamander.
None
47
At least 1 rope and small fishing net
4. Steal a Phoenix feather from the Desert phoenix.
The Golem
25
None. BEWARE: You may already have Pheonix Quill Pen in your bank from The Golem quest which wont allow you to get another feather.
5. Travel to Uzer via magic carpet
The Golem
None
200 coins
6. Travel to the desert via the Eagle transport system.
Eagles' Peak
45
Rope
7. Pray at the Elidinis statuette in Nardah.
Spirits of the Elid
None
None. Must have less than full prayer points.
8. Create a combat potion in the desert.
None
36
Harralander potion (unf), Goat horn dust (Must be made in the desert and not within city limits)
9. Teleport to Enakhra's Temple with the camulet
Enakhra's Lament
None
Camulet
10. Visit the genie
Spirits of the Elid
None
Rope, Light source
11. Teleport to Pollnivneach with a redirected teleport to house tablet.

( Ironman Mode Alternative) Enter your Player-owned house from Pollnivneach.

None
20
Scroll of redirection, House tablet
12. Chop some teak logs near Uzer
None
35
Any axe
Rewards
Hard
Task
Quest(s) Needed
Skill(s)

Needed

Items Needed
1. Knock out a Menaphite Thug.
The Feud
65
Any blackjack
2. Mine some granite.
None
45
Any pickaxe
3. Refill your waterskins in the Desert using Lunar spells
Dream Mentor
68
113, empty waterskin
4. Kill the Kalphite Queen.
None
None, but high highly recommended
Decent weapons and armour, such as Verac's armour set
5. Complete a lap of the Pollnivneach Agility Course.
None
70
None
6. Slay a Dust Devil with a Slayer helmet equipped.
Started Desert Treasure
65 10 55
Slayer helmet, weapons and armour
7. Activate Ancient Magicks
Desert Treasure
None
None
8. Defeat a Locust rider with Keris
Contact!
None

Keris, armour recommended (Scarab mage works too)

9. Burn some yew logs on the Nardah Mayor's balcony.
The Feud
60
1 Yew log, tinderbox
10. Create a Mithril platebody in Nardah.
None
68
5 Mithril bars, hammer
Rewards
All medium diary rewards
1 Antique lamp worth 15,000 experience in any skill above 50
All carpet rides are free
Pharaoh's sceptre holds up to 6 charges
Option to move the Camulet teleport location to the cavern entrance
Zahur will create unfinished potions at a cost of 200 coins each, works with notes.
Elite
Task
Quest(s) Needed
Skill(s)

Needed

Items Needed
1. Bake a wild pie at the Nardah clay oven.
None
85
Raw wild pie
2. Cast Ice Barrage against a foe in the Desert.
Desert Treasure
94
246
3. Fletch some Dragon darts at the Bedabin Camp
The Tourist Trap
95
At least 1 dragon dart tip
4. Speak to the Kq head in your POH.
None
78
Must have obtained a Kq head drop from the Kalphite Queen
5. Steal from the Grand Gold Chest in the final room of Pyramid Plunder.
Started Icthlarin's Little Helper
91
A Pharaoh's sceptre can be used to enter Pyramid Plunder without starting Icthlarin's Little Helper

Thieving CANNOT be boosted to get into the level 91 room with the gold chest.

6. Restore at least 85 Prayer points when praying at the Altar in Sophanem.
Started Icthlarin's Little Helper
85
None
Rewards
Community content is available under
CC-BY-SA
unless otherwise noted.