World of Warcraft: Dragonflight - The Loop
Play Sound

Desert lizards are Slayer monsters found in the Kharidian Desert, requiring level 22 Slayer to kill. Players must bring ice coolers in order to finish them off completely; these can be purchased from any Slayer master. Ice coolers must be used on a Desert lizard to defeat them, you may use it when it has 4 hp or less to instantaneously kill them. Desert lizards are fairly weak foes, and can be taken down with ease.
The lizards are located south-east of the Shantay Pass, across the River Elid, roaming around south of the area where orange salamanders can be caught. The easiest route to get there is by taking a magic carpet ride to the temples of Uzer, then heading south-west. Alternatively, players with access to fairy rings can use the code dlq to get to them faster.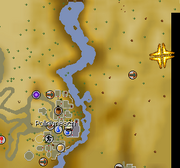 The lizards are found in areas affected by desert heat, so players are advised to bring a water source like waterskins to avoid taking damage from the heat. Those with access to the fairy ring system can easily refill waterskins by re-entering Zanaris; as a water fountain is located north of the fairy ring.
Desert lizards can be assigned as a Slayer assignment by Turael, Mazchna, Chaeldar, and Vannaka. Although the task says "Desert Lizard", you don't necessarily have to kill just desert lizards. Any other lizards around the area are counted toward the task.
The final blow cannot be dealt by using Ancient Magicks ice spells.
Drops
100%
Ores/Bars
Herbs
Seeds
Runes
Other
Gem drop table
In addition to the drops above, this monster has access to the gem drop table.
Slayer Tower

 Crawling Hand •  Banshee •  Infernal Mage •  Bloodveld •  Aberrant spectre •  Gargoyle (Boss • Dusk • Dawn) •  Nechryael •  Abyssal demon (Boss)

Fremennik Slayer Dungeon

 Cave crawler •  Rockslug •  Cockatrice •  Pyrefiend •  Basilisk •  Jelly •  Turoth •  Kurask

Lumbridge Swamp Caves
God Wars Dungeon (Wilderness)

 Pyrefiend •  Bloodveld •  Spiritual ranger •  Spiritual warrior •  Spiritual mage

Stronghold Slayer Cave
Catacombs of Kourend

 Twisted Banshee •  Warped Jelly •  Mutated Bloodveld •  Deviant spectre •  Brutal black dragon •  Greater Nechryael •  Abyssal demon •  Dark beast

Wyvern Cave

 Long-tailed Wyvern •  Spitting Wyvern •  Taloned Wyvern •  Ancient Wyvern

Others

 Desert Lizard •  Mogre •  Harpie Bug Swarm •  Killerwatt •  Molanisk •  Terror dog •  Sea snake (Young) (Hatchling) •  Brine rat •  Fever spider •  Mutated Zygomite (Ancient) •  Cave horror •  Dust devil •  Skeletal Wyvern •  Cave kraken (Boss) •  Dark beast •  Cerberus •  Smoke devil (Boss)

| | |
| --- | --- |
| Superior monsters |  Crushing hand •  Chasm Crawler •  Screaming banshee (Twisted) •  Giant rockslug •  Cockathrice •  Flaming pyrelord •  Monstrous basilisk •  Malevolent Mage •  Insatiable Bloodveld (Mutated) •  Vitreous Jelly (Warped) •  Cave abomination •  Abhorrent spectre (Repugnant) •  Choke devil •  King kurask •  Marble gargoyle •  Nechryarch •  Greater abyssal demon •  Night beast •  Nuclear smoke devil |