Desert Treasure is a quest surrounding the Mahjarrat Azzanadra's escape from his pyramid prison in the Kharidian Desert.
Details
Start point
Speak to the archaeologist at the Bedabin Camp.
Official difficulty
Master
Description
Rumours abound throughout Varrock and Al-Kharid that an archaeologist has discovered clues to a hoard of treasure hidden deep in the desert, south of Al-Kharid.

Anybody prepared to offer him assistance in his treasure hunting could well find themselves benefitting from a very large reward indeed...

Length
Very Long
Requirements
Items required

Strongly suggested:

Enemies to defeat
Walkthrough
Starting out
Items required (may be noted): 650 coins, ashes, blood rune, bones, charcoal, 6 molten glass, 12 magic logs, and 6 steel bars.
Recommended: Ring of dueling(8), 200 Coins for carpet ride to Bedabin Camp, Stamina Potions, Shantay pass, Digsite Teleport, Coins for trading bank notes to Tiles (tent beside Eblis)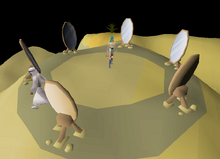 NOTE: At any point with one of the diamonds in your inventory, a level 95 stranger may randomly appear and attack you with a poisoned dragon dagger.
Blood diamond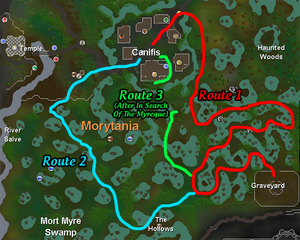 Items required: Silver bar, spice, pestle and mortar, garlic, and combat equipment (after Entrana!).
Ice diamond
Items required: Cake, climbing boots or Trollheim teleport, spiked boots, fire spells, and combat equipment. Prayer and super restore potions highly recommended.
NOTE: Iban Blast, Flames of Zamorak, and Trident of the seas cannot damage Kamil. Additionally, your stats will be constantly drained during this fight.
Smoke diamond
Items required: tinderbox, facemask, energy/stamina potions, ice gloves and/or runes for water spells, and combat equipment.
NOTE: You must wear ice gloves to wield anything while fighting Fareed. For range and magic only ice arrows and water spells can damage him (Trident of the Seas will not work). Suggested: stamina or energy potions, Dwarven Cannon is extremely effective against him.
Shadow diamond
Items required: 20+ lockpicks (Tiles by the general store in the Bandit camp will unnote any items for a small fee), antipoison, food, 5,000 coins, magic combat equipment.
Jaldraocht pyramid
Items required: all four diamonds and weight reducing gear. (Stamina, energy, anti-poison, prayer potions and high-healing food recommended)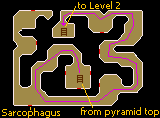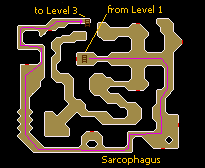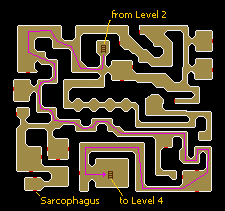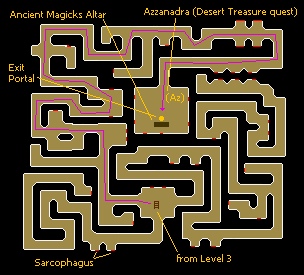 Quest complete!
NOTE: Talk to Eblis after the quest to buy an Ancient staff for 80,000 coins.
Rewards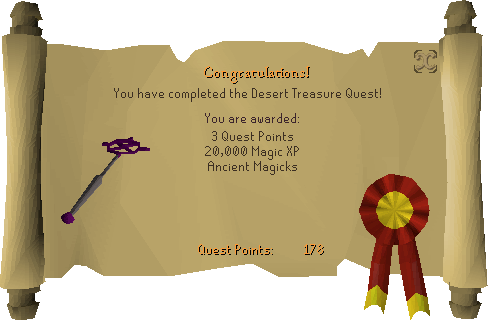 NPCs

Archaeologist • Archaeological expert • Malak • Ruantun • High Priest • Troll child • Troll mother • Troll father • Rasolo • Eblis • Azzanadra

Enemies

Items

 Etchings •  Translation •  Silver pot •  Blessed pot •  Garlic powder •  Bandit's brew •  Spiked boots •  Gilded cross •  Warm key •  Ring of visibility •  Ancient staff

Diamonds

 Blood diamond •  Ice diamond •  Smoke diamond •  Shadow diamond

Related

Quick Guide