Dharok the Wretched's equipment is obtainable from Barrows. Note that completing the minigame does not guarantee you will get a Barrows item. Like all Barrows equipment, Dharok's armour requires 70 Defence to wear, while the Greataxe requires 70 Attack and Strength to wield. Note that over a period of time like all Barrows items, the armour will degrade, making it untradeable when it is at 100 and below. It is only tradeable when fully repaired or at 0 (zero).
Set effect
Wretched Strength: The lower a player's remaining hitpoints are, the higher maximum hit the player can inflict with the set equipped.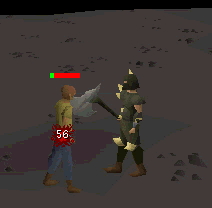 The formula appears to be for every 1 Hitpoint lost, the hit is 1% higher; so when a player has 99 Hitpoints and is reduced to 1, the set effect will deal close to double damage (98% higher). It is possible to hit 118 with the full set by using a Salve amulet (e) or Salve amulet(ei), wearing max possible Strength equipment, attacking an undead monster while being at 1 hitpoint and 99 Strength, using Piety and a Super strength potion or the Dragon battleaxe's special attack, Rampage. Due to the fact that at low hitpoints the risk of dying is very high, many players only use Dharok's for playing safe activities such as Pest Control, Nightmare Zone or when training on monsters with a low max hit such as Experiments. Alternatively, some players utilise the set effect while using the Protect from Melee prayer, especially in areas near altars. The full set must be equipped to yield the special effect.
Many players using Dharok's intentionally lower their Hitpoints to take advantage of the set effect, colloquially referred to as "Dharoking". Common methods of lowering Hitpoints are:
Prices
| Item | GE Price | GE Price at 0 |
| --- | --- | --- |
| Dharok's helm | 243,630 | 199,541 |
| Dharok's platebody | 978,025 | 921,233 |
| Dharok's platelegs | 1,026,058 | 957,936 |
| Dharok's greataxe | 652,656 | 570,232 |
| Total | 2,900,369 | 2,648,942 |
Note: GE prices of Dharok's equipment at 0 charge may not accurately reflect its value due to inactivity on the GE.
Components and bonuses
Players wearing Dharok's set will have a 25% chance of recoiling 15% of the damage taken if an Amulet of the damned is worn.
Item
Attack Bonus
Defence Bonus
Other Bonus
Stab
Slash
Crush
Magic
Range
Stab
Slash
Crush
Magic
Range
Strength
Prayer
Dharok's helm
0
0
0
-3
-1
+45
+48
+44
-1
+51
0
0
Dharok's platebody
0
0
0
-30
-10
+122
+120
+107
-6
+132
0
0
Dharok's platelegs
0
0
0
-21
-7
+85
+82
+83
-4
+92
0
0
Dharok's greataxe
-4
+103
+95
-4
0
0
0
0
0
-1
+105
0
Total
-4
+103
+95
-58
-18
+252
+250
+234
-11
+274
+105
0
Dharok the Wretched
Torag the Corrupted
Ahrim the Blighted

 Set •  Hood •  Robe top •  Robe skirt •  Staff

Verac the Defiled

 Set •  Helm •  Brassard •  Plateskirt •  Flail

Guthan the Infested

 Set •  Helm •  Platebody •  Chainskirt •  Warspear

Karil the Tainted

 Set •  Coif •  Leathertop •  Leatherskirt •  Crossbow (Bolt rack)