Fire Emblem Warriors: Three Hopes - The Loop
Play Sound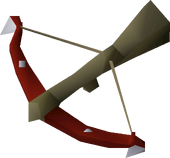 The dragon crossbow is a crossbow requiring 64 Ranged to wield. It can fire up to and including dragon bolts.
Dragon crossbows can be made through the Fletching skill at level 78; a player must first cut a magic stock for the crossbow from magic logs, granting 70 Fletching experience. Then, a player must add dragon limbs with a hammer to the stock, granting 6 experience and making an unstrung dragon crossbow. Finally, they must string the crossbow with crossbow string, granting 6 experience. The crossbow has an attack range of 7. Longrange increases attack range by 2.
Combat styles
Special attack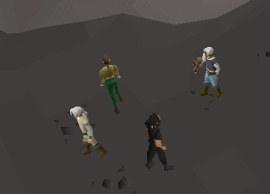 The crossbow has a special attack, Annihilate, which drains 60% of the special attack bar and hits any enemy in a 3x3 area. The primary target of Annihilate will take 20% extra damage, all other targets will take 20% less damage. If used in a single-way combat, the attack will still work but only hit one target with 20% extra damage. It ignores enchanted bolt effects.
Metal crossbows

 Bronze •  Blurite •  Iron •  Steel •  Mithril •  Adamant •  Rune •  Dragon

Other crossbows

 Normal •  Phoenix •  Dorgeshuun •  Hunters' •  Karil's •  Dragon hunter •  Armadyl

Unstrung crossbows

 Bronze •  Blurite •  Iron •  Steel •  Mithril •  Adamant •  Runite •  Dragon

Crossbow limbs

 Bronze •  Blurite •  Iron •  Steel •  Mithril •  Adamantite •  Runite •  Dragon

Crossbow stock

 Wooden •  Oak •  Willow •  Teak •  Maple •  Mahogany •  Yew •  Magic
Melee weapons

 Axe •  Pickaxe (or) •  Harpoon •  Battleaxe •  Cane •  Claws •  Dagger •  Halberd •  Mace •  Sword •  Longsword •  Scimitar (or) •  Spear •  2h sword •  Warhammer

Ranged
Armour

 Med helm •  Full helm (g) •  Chainbody (g) •  Platebody (g) •  Platelegs (g) •  Plateskirt (g) •  Square shield (g) •  Kiteshield (g) •  Boots (g) •  Gloves •  Defender (t)

Other

 Shield left half •  Shield right half •  Dragon metal shard •  Dragon metal slice •  Dragon metal lump •  Arrowtips •  Javelin heads •  Dart tips •  Unfinished bolts