Raise a Floppa - The Loop
Play Sound

The dragon harpoon is a possible reward from killing Wyrms assigned by the new slayer master, Konar quo Maten. It is both a weapon (requiring 60 Attack to wield) and a fishing tool (requiring 61 Fishing to use), used to catch tuna, swordfish, and sharks. It gives the user a 20% faster catch rate when fishing at a "harpoon" fishing spot.
Combat styles
Special attack
The dragon harpoon has a special attack, Fishstabber, that provides a visible +3 boost to Fishing. This consumes 100% of the player's special attack energy, though it cannot be used without the 60 Attack required to wield the harpoon.
Upgrading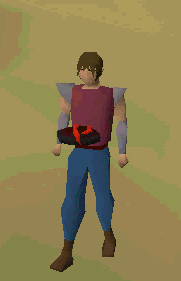 Players can combine a smouldering stone with a dragon harpoon to create an infernal harpoon, requiring 75 Fishing and 85 Cooking (boosts not allowed) to do so. This process cannot be undone.
The infernal harpoon will grant the player a 1/3 chance to consume the fish for Cooking experience whilst fishing. The infernal harpoon will be able to consume 5,000 fish before degrading, requiring another smouldering stone or dragon harpoon to charge it.
Melee weapons

 Axe •  Pickaxe (or) •  Harpoon •  Battleaxe •  Cane •  Claws •  Dagger •  Halberd •  Mace •  Sword •  Longsword •  Scimitar (or) •  Spear •  2h sword •  Warhammer

Ranged
Armour

 Med helm •  Full helm (g) •  Chainbody (g) •  Platebody (g) •  Platelegs (g) •  Plateskirt (g) •  Square shield (g) •  Kiteshield (g) •  Boots (g) •  Gloves •  Defender (t)

Other

 Shield left half •  Shield right half •  Dragon metal shard •  Dragon metal slice •  Dragon metal lump •  Arrowtips •  Javelin heads •  Dart tips •  Unfinished bolts
Mount Quidamortem

Captain Rimor • Gnosi • Historian Duffy • Mountain Guide • Natural Historian • Stuliette

NPCs (inside)

Items

Fish

 Pysk (raw) •  Suphi (raw) •  Leckish (raw) •  Brawk (raw) •  Mycil (raw) •  Roqed (raw) •  Kyren (raw)

Bats

 Guanic (raw) •  Prael (raw) •  Giral (raw) •  Phluxia (raw) •  Kryket (raw) •  Murng (raw) •  Psykk (raw)

Herblore
Potions

Weak

 Elder (-) •  Twisted (-) •  Kodai (-) •  Revitalisation (-) •  Prayer enhance (-) •  Xeric's aid (-) •  Overload (-)

Standard

 Elder •  Twisted •  Kodai •  Revitalisation •
 Prayer enhance •  Xeric's aid •  Overload

Strong

 Elder (+) •  Twisted (+) •  Kodai (+) •  Revitalisation (+) •  Prayer enhance (+) •  Xeric's aid (+) •  Overload (+)

Texts

 Creature keeper's journal •  Nistirio's manifesto •  Tekton's journal •  Transdimensional notes •  Vanguard judgement •  Houndmaster's diary •  Dark journal

Miscellaneous

 Kindling •  Empty gourd vial (water-filled) •  Keystone crystal •  Cavern grubs •  Medivaemia blossom •  Mallignum root plank

Rewards

Melee

Ranged

 Dragon hunter crossbow •  Dragon thrownaxe •  Twisted bow •  Twisted buckler

Magic

Prayer scrolls

Other

 Dinh's bulwark •  Dragon harpoon •  Dark relic •  Ancient tablet •  Olmlet

Challenge Mode

| | |
| --- | --- |
| Pet transmogs |  Metamorphic dust •  Puppadile •  Tektiny •  Vanguard •  Vasa Minirio •  Vespina |
| Capes |  Xeric's guard •  Xeric's warrior •  Xeric's sentinel •  Xeric's general •  Xeric's champion |