No Man's Sky Update - The Loop
Play Sound
The dragon longsword is the second strongest longsword available in Old School RuneScape, and can only be wielded by players who have at least 60 Attack and have completed the Lost City quest.
As with all dragon weapons, players cannot make this item using the Smithing skill. However, it can be purchased in the Zanaris marketplace from Jukat for 100,000 coins. The weapon can be received as a reward from elite treasure trails.
It is a preferred weapon for players buying their first dragon weapon as it has a low cost but can still inflict significant damage. For a long time, prior to the 2005 introduction of the abyssal whip and dragon scimitar, this was the weapon of choice for both player killing and training.
Special attack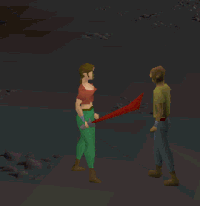 The dragon longsword has a special attack called Cleave, which raises the player's maximum hit by 15% for one hit, consuming 25% of the player's special attack energy.
Combat styles
Dropping monsters
Scimitar

 Bronze •  Iron •  Steel •  Black •  White •  Mithril •  Adamant •  Rune •  Gilded •  Dragon (or)

Longsword

 Bronze •  Iron •  Steel •  Black •  White •  Mithril •  Adamant •  Katana •  Rune •  Granite •  Dragon •  3rd age •  Vesta's

Battleaxe

 Bronze •  Iron •  Steel •  Black •  White •  Mithril •  Adamant •  Rune •  Leaf-bladed •  Dragon

Claws

 Bronze •  Iron •  Steel •  Black •  White •  Mithril •  Adamant •  Rune •  Dragon

Halberd

 Bronze •  Iron •  Steel •  Black •  White •  Mithril •  Adamant •  Rune •  Dragon •  Crystal

Two-handed sword

| | |
| --- | --- |
| Standard |  Bronze •  Iron •  Steel •  Black •  White •  Mithril •  Adamant •  Rune •  Gilded •  Dragon |
| Godswords | |
| Other | |

Quests

 Blurite •  Anger sword •  Anger battleaxe •  Excalibur •  Silverlight •  Darklight •  Wooden spoon •  Skewer •  Cleaver

Castle Wars

Other

 Iron sickle •  Silver sickle (b) •  Starter sword •  Spear •  Harry's cutlass •  Lucky cutlass •  Brine sabre •  Fremennik •  Arclight •  Abyssal whip (volcanic) (frozen) •  Abyssal tentacle •  Scythe of vitur
Melee weapons

 Axe •  Pickaxe (or) •  Harpoon •  Battleaxe •  Cane •  Claws •  Dagger •  Halberd •  Mace •  Sword •  Longsword •  Scimitar (or) •  Spear •  2h sword •  Warhammer

Ranged
Armour

 Med helm •  Full helm (g) •  Chainbody (g) •  Platebody (g) •  Platelegs (g) •  Plateskirt (g) •  Square shield (g) •  Kiteshield (g) •  Boots (g) •  Gloves •  Defender (t)

Other

 Shield left half •  Shield right half •  Dragon metal shard •  Dragon metal slice •  Dragon metal lump •  Arrowtips •  Javelin heads •  Dart tips •  Unfinished bolts