Fire Emblem Warriors: Three Hopes - The Loop
Play Sound

The dragon mace is the second strongest mace stat-wise after the Tzhaar-ket-em. It can only be wielded by players who have an Attack level of at least 60 and who have completed the Heroes' Quest.
The mace can be purchased for 50,000 coins at the Happy Heroes 'H' Emporium in the Heroes' Guild, or from other players. It can also be obtained as a reward from Elite Clue Scrolls. The dragon mace has 17 spikes.
Special attack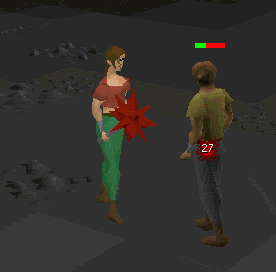 The dragon mace has a special attack called Shatter, which increases the player's accuracy by 25% and the strength of the player's next hit by 50%, while rolling against the target's crush defence. This attack consumes 25% of the player's special attack energy.
Spike combat style is currently never more accurate than the combat styles with crush type.
Combat styles
Mace

 Bronze •  Iron •  Steel •  Black •  White •  Ancient •  Mithril •  Adamant •  Rune •  Tzhaar-ket-em •  Dragon

Warhammer

 Bronze •  Iron •  Steel •  Black •  White •  Mithril •  Adamant •  Rune •  Granite •  Dragon •  Statius's

Cane
Kitchen weaponry
Maul

 Gadderhammer •  Hill giant club •  Granite maul •  Tzhaar-ket-om •  Elder maul

Mjolnir

Other

 Barrelchest anchor •  Viggora's chainmace •  Verac's flail •  Torag's hammers •  Abyssal bludgeon
Melee weapons

 Axe •  Pickaxe (or) •  Harpoon •  Battleaxe •  Cane •  Claws •  Dagger •  Halberd •  Mace •  Sword •  Longsword •  Scimitar (or) •  Spear •  2h sword •  Warhammer

Ranged
Armour

 Med helm •  Full helm (g) •  Chainbody (g) •  Platebody (g) •  Platelegs (g) •  Plateskirt (g) •  Square shield (g) •  Kiteshield (g) •  Boots (g) •  Gloves •  Defender (t)

Other

 Shield left half •  Shield right half •  Dragon metal shard •  Dragon metal slice •  Dragon metal lump •  Arrowtips •  Javelin heads •  Dart tips •  Unfinished bolts