Fire Emblem Warriors: Three Hopes - The Loop
Play Sound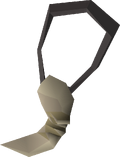 The dragonbone necklace is a necklace that is dropped exclusively by Vorkath. Wearing the necklace requires level 80 in Prayer, and currently offers the highest prayer bonus in the neck slot in Old School RuneScape.
When worn, it will restore prayer points as bones are buried (even if buried via the bonecrusher). However, this prayer restoring effect takes nine seconds to take effect after equipping the necklace; this is to prevent players equipping another necklace and only swapping to the dragonbone necklace each time they kill a monster just for the prayer restoration effect. A small sound effect can be heard when the nine seconds have passed. This effect does not stack with the Catacombs of Kourend prayer restoration effect.
The amount of points restored are as follows:
Dropping monsters
| Monster | Combat level | Quantity | Rarity |
| --- | --- | --- | --- |
| Vorkath | 732 | 1 | |
Trivia
Upon release, the necklace had a +6 prayer bonus, and equipping the necklace reduced remaining prayer points by half. This was changed to +12 instead and the latter effect replaced with the nine-second waiting period in an update on 25 January 2018.
Monsters

Signature drops

 Skeletal visage •  Dragonbone necklace  Vorkath's head •  Jar of decay •  Vorki

Equipment
God books

 Balance (+5) •  Holy (+5) •  Unholy (+5) •  Law (+5) •  Darkness (+5) •  War (+5)

Amulets

 Amulet of power (+1) •  Necklace of anguish (+2) •  Amulet of torture (+2) •  Amulet of glory (+3) •  Salve amulet (e) (i) (ei) (+3) •  Amulet of the damned (+3) •  Amulet of fury (+5) •  Holy symbol (+8) •  Unholy symbol (+8) •  God stole (+10) •  Dragonbone necklace (+12)

Robes

 Priest gown (+6) •  Zamorak monk robes (+6) •  Druid's robes (+8) •  Shade robes (+9) •  Monk's robes (+11) •  Vestment robes (Top & Bottom: +11, whole set: +32)

Capes

 Ardougne cloak 1 (+2) •  Fire cape (+2) •  Vestment cloak (+3) •  Skillcape (trimmed) (+4) •  Ardougne cloak 2 (+4) •  Ardougne cloak 3 (+5) •  3rd age cloak (+5) •  Ardougne cloak 4 (+6)

Weapons

 Maces •  White equipment •  Armadyl crossbow (+1) •  Saradomin sword (+2) •  Zamorakian spear (+2) •  Silver sickle (b) (+5) •  Toktz-mej-tal (+5) •  Wolfbane (+5) •  Crozier (+6) •  Void knight mace (+6) •  Godswords (+8)

Shields

 White equipment •  Falador shield 1 (+1) •  Spirit shield (+1) •  Falador shield 2 (+2) •  Blessed spirit shield (+3) •  Arcane spirit shield (+3) •  Elysian spirit shield (+3) •  Spectral spirit shield (+3) •  Falador shield 3 (+4) •  Falador shield 4 (+5) •  Broodoo shield (+5)

Armour

 White equipment •  Armadyl (+3) •  Bandos (+3) •  Helm of neitiznot (+3) •  Blessed d'hide (+4) •  Mitre (+5) •  Elite void robes (+6) •  Justiciar (+10) •  Initiate (+14) •  Proselyte (+17) •  Verac's (+18)

Rings

 Explorer's rings (+1) •  Ring of suffering (+2) •  Ring of the gods (+4) •  Ring of suffering (i) (+4) •  Ring of the gods (i) (+8)

God blessings

 Holy (+1) •  Unholy (+1) •  Peaceful (+1) •  Honourable (+1) •  War (+1) •  Ancient (+1)