The Dragonfire shield is one of the best shields in the game. It requires 75 Defence to wear. The Dragonfire shield offers two special characteristics: acts like a regular Anti-Dragon Shield in terms of dragonfire protection, and also protects against Skeletal Wyverns, similarly to the Elemental Shield.
Bonuses
Uncharged Bonuses
* Fully charged stats (see below).
The Dragonfire shield is unique in terms of defence it gives. When its "uncharged", it is tradeable and offers slightly more defences than Mithril Sq Shield. However, when fully charged it is the best shield in the game.
To charge the shield, you will need to absorb dragonfire attacks while wearing it. Every absorption increases effective defences by +1, to a peak of +50 defence increase. However, magic defence will remain the same.
Metal Dragons are best way to do it, since if you keep your distance they will only use their breath attack (using an antifire potion in conjunction is recommended to prevent any damage taken. Protect from Magic prayers do not affect metal dragonfire).
Obtaining Dragonfire shield
| | |
| --- | --- |
| Level | 90 |
| Experience | 2000 |
| Tool | Hammer |
| Materials | Unknown edit |
| Used on... | Anvil |
The Dragonfire shield is not dropped by any NPCs. To obtain one, you will need Draconic Visage and Anti-dragon shield. Then you have to attach them together with a hammer at an anvil. This requires 90 Smithing, and smithing them together grants 2000 Smithing xp.
Alternatively, you can take Visage and Anti-Dragon shield to Oziach at Edgeville, and pay him 1,250,000 coins to smith them together.
Special ability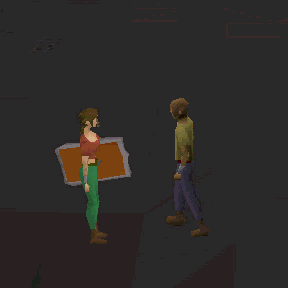 By right clicking Dragonfire shield you can select "discharge". This will take one charge off. Also, when you attack someone it will launch dragonfire attack on them. One charge can deal high as 25 damage. But, if the enemy is wearing Anti-Dragon Shield, the Dragonfire shield, or under effect of Protect from Magic/antifire potion, then the effectiveness of the attack is greatly reduced. You can only do this once every 10 minutes.
If you want get rid of charges fast you can just select "release" (right click option), which will release all charges in a harmless burst.
Trivia