Fire Emblem Warriors: Three Hopes - The Loop
Play Sound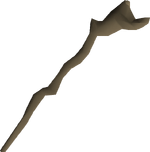 The dramen staff allows players who have completed the Lost City quest to enter Zanaris from the shed in the Lumbridge Swamp while wielding it. Players can obtain the staff by using a knife on a dramen branch which requires a Crafting level of 31. It is possible to return to the island and cut more branches, although it is advised players make multiple staffs upon completion of the quest as this prevents the need for a return trip if the staff is lost.
The Dramen staff is also required for fairy rings teleportation which requires partial completion of the quest Fairytale II - Cure a Queen. Players doing the Lunar Diplomacy quest can upgrade their staff to a lunar staff that has the same effects. If the player has completed elite Lumbridge & Draynor Diary, no staff is needed for fairy ring teleportation.
The Dramen Staff can also be used to defeat Koschei the Deathless during The Fremennik Trials quest by smuggling in a Dramen branch and a knife.
Trivia
Staves

 Staff (+4) •  Magic (+10) •  White (+10) •  Air (+10) •  Water (+10) •  Earth (+10) •  Fire (+10) •  Bryophyta's (+15) •  Ancient (+15) •  Slayer's (e) (+12) •  Iban's (u) (+10) •  Toktz-mej-tal (+15) •  Ahrim's (+15) •  Staff of the dead (toxic) (+17) •  Staff of light (+17) •  Zuriel's (+18)

Battlestaves

 Battlestaff (+10) •  Air (+10) •  Water (+10) •  Earth (+10) •  Fire (+10) •  Lava (or) (+10) •  Mud (+10) •  Steam (or) (+10) • Smoke (+10) •  Mist (+10) •  Dust (+10)

Mystic staves

 Air (+10) •  Water (+10) •  Earth (+10) •  Fire (+10) •  Lava (or) (+10) •  Mud (+10) •  Steam (or) (+10) • Smoke (+10) •  Mist (+10) •  Dust (+10)

Tridents

 Starter staff (+10)  Trident of the seas (e) (+15) •  Trident of the swamp (e) (+25) •  Sanguinesti staff (+25) •  Dawnbringer (+25)

Wands

 Beginner (+5) •  Apprentice (+10) •  Teacher (+15) •  Master (+20) •  3rd age (+20) •  Kodai (+28)

Croziers

 Ancient (+10) •  Armadyl (+10) •  Bandos (+10) •  Guthix (+10) •  Saradomin (+10) •  Zamorak (+10)

Other

 Broken (+0) •  Staff of armadyl (+0) •  Cursed goblin staff (+0) •  Skull sceptre (i) (+4) •  Dramen (+10) •  Lunar (+13) •  Rod of ivandis (+4) •  Ivandis flail (+8) •  Thammaron's sceptre (+20) •  Pharaoh's sceptre (+10) •  Void knight mace (+8)