Old School RuneScape uses the British convention for floor numbering: Ground floor, first floor, etc.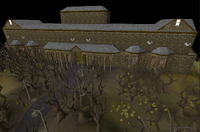 Draynor Manor is a large, haunted, mansion located north of Draynor Village. Its owner is Count Victor Draynor Drakan. The manor contains 4 floors and is a central location for 4 quests; Ernest the Chicken, Vampire Slayer, Animal Magnetism, and is visited briefly during Fairytale I - Growing Pains. It also holds a portal that grants access to the dimension where killerwatts reside.
Players with access to the Arceuus spellbook can cast a teleport spell that takes them directly to the manor doors. Players can also use the magic tablet equivalent.
Trivia
If a free-to-play player uses a spade on the grave mount behind the manor, a message will appear, saying that the player found a members object. The object will be put back in place because it is "of no use in this world."
On the

ground

 floor[

?

], in the western room there are two pictures. When you move the camera with the arrow keys, the eyes follow it.
The name 'Draynor Manor' is likely a reference to the Drayton Manor Theme Park in Staffordshire, a county northwest of Jagex Headquarters.
NPCs

Ava • Alice • Old crone • Alice's husband • Cow31337Killer • Sneaky undead fowl • Witch • Turael

Items

 Crone-made amulet •  Undead chicken •  Selected iron •  Bar magnet •  Blessed axe •  Undead twigs •  Research notes •  Translated notes •  Polished buttons •  A pattern •  A container

Rewards

Locations

Alice's farm • Draynor Manor • Rimmington mining site

Related