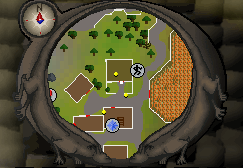 The Draynor Village Rooftop Agility Course is available to players with 10 Agility.
It can be started by climbing the Rough Wall next to the wheat field north of Draynor's bank and is finished by climbing down a crate off of Ned's house. Players get 120 experience from completing the course, including the 79 experience upon climbing down the crate at the end of the course.
It's possible to fail the Cross Tightrope 1 and Balance Narrow Wall obstacles during the course.
A player can complete this course in about 45 seconds.
Using this course, one can reach approximately 9,600 XP per hour.
Experience per obstacle

| Image | Obstacle | Experience |
| --- | --- | --- |
| | Climb Rough Wall | 5 |
| | Cross Tightrope 1 | 8 |
| | Cross Tightrope 2 | 7 |
| | Balance Narrow Wall | 7 |
| | Jump-up Wall | 10 |
| | Jump Gap | 4 |
| | Climb-down Crate | 79 |
| | Total | 120 |
Agility courses

 Gnome stronghold(1)•  Gnome Ball(1)•  Brimhaven(1)•  Werewolf Skullball(25)•  Agility Pyramid(30)•  Penguin(30)•  Barbarian Outpost(35)•  Ape Atoll(48)•  Wilderness(52)•  Werewolf(60)•  Dorgesh-Kaan(70)

Rooftop Agility courses

Draynor Village(10)• Al Kharid(20)• Varrock(30)• Canifis(40)• Falador(50)• Seers' Village(60)• Pollnivneach(70)• Rellekka(80)• Ardougne(90)