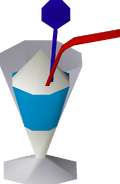 Drunk dragon is a drink that can be made at level 32 Cooking, granting 160 Cooking experience.
It heals 5 HP, lowers your Attack by 4 levels, and raises your Strength by 7 levels.
Mixing the Drink
In a cocktail shaker, mix the vodka, gin, and dwellberries. Click on the shaker when you have all of these ingredients in your inventory. Click on the shaker again to pour it into a cocktail glass, which gives 30 Cooking experience. Click on the "mixed dragon" to add the pineapple chunks and cream. Lastly, heat it on a range to complete the drink, giving 130 Cooking experience.
Cocktails

| | |
| --- | --- |
| Self-made |  Fruit blast (mixed) •  Dirty blast •  Pineapple punch (mixed) •  Wizard blizzard (mixed) •  Short green guy (mixed) •  Drunk dragon (1 • 2 • 3) •  Chocolate saturday (1 • 2 • 3) •  Blurberry special (mixed) |
| Pre-made |  Fruit blast •  Pineapple punch •  Wizard blizzard •  Short green guy •  Drunk dragon •  Chocolate saturday •  Blurberry special |

Crunchies

| | |
| --- | --- |
| Self-made |  Toad (Half made • Unfinished) •  Spicy (Half made • Unfinished) •  Worm (Half made • Unfinished) •  Chocolate chip (Half made • Unfinished) •  Raw •  Half baked •  Burnt |
| Pre-made |  Toad •  Spicy •  Worm •  Chocolate chip |

Battas

| | |
| --- | --- |
| Self-made |  Fruit (Half made • Unfinished) •  Toad (Half made) •  Worm (Half made • Unfinished) •  Vegetable (Half made • Unfinished) •  Cheese & tomato (Half made • Unfinished) •  Raw •  Half baked •  Burnt |
| Pre-made |  Fruit •  Toad •  Worm •  Vegetable •  Cheese & tomato |

Bowls

| | |
| --- | --- |
| Self-made |  Worm hole (Half made • Unfinished) •  Veg ball (Half made • Unfinished) •  Tangled toad's legs (Half made) •  Chocolate bomb (Half made • Unfinished) •  Raw •  Half baked •  Burnt |
| Pre-made | |

Ingredients

| | |
| --- | --- |
| Supplies |  Cocktail guide •  Cocktail shaker •  Cocktail glass •  Gianne's cook book •  Gianne dough •  Batta tin •  Crunchy tray •  Gnomebowl mould |
| Drinks | |
| Fruits |  Lemon •  Lemon chunks •  Lemon slices •  Orange •  Orange chunks •  Orange slices •  Pineapple •  Pineapple chunks •  Pineapple ring •  Lime •  Lime chunks •  Lime slices |
| Additional |  Dwellberries •  Equa leaves •  Pot of cream •  Swamp toad •  Toad's legs •  King worm •  Gnome spice |