Fire Emblem Warriors: Three Hopes - The Loop
Play Sound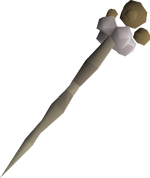 The dust battlestaff is a magical staff that requires 30 Attack and 30 Magic. When equipped the staff provides an infinite amount of air and earth runes.
The staff is dropped by superior slayer monsters and dust devils. Players can give 40,000 coins to Thormac, after the completion of the Scorpion Catcher quest, to upgrade the staff to a Mystic dust staff.
Dropping monsters
The drop rate of the dust battlestaff from a superior monster is determined by the Slayer requirement in order to slay it. The exact formula is
An exception to this is the Choke devil, since it has the dust battlestaff on both its standard and unique drop tables, therefore being more common than the formula suggests.
Spells that use both earth and air runes
| Icon | Spell | Level | Runes | Exp | Category | Spell Group | Notes |
| --- | --- | --- | --- | --- | --- | --- | --- |
| | Earth Strike | 9 | 121 | 9.5 | Combat | Standard | Maximum of 6 damage per cast. |
| | Earth Bolt | 29 | 132 | 19.5 | Combat | Standard | Maximum of 11 damage per cast. |
| | Lumbridge Teleport | 31 | 113 | 41 | Teleport | Standard | Transports the caster to the centre of Lumbridge Castle. |
| | Crumble Undead | 39 | 122 | 24.5 | Combat | Standard | Can only be cast on undead monsters. Maximum of 15 damage per cast. |
| | Teleport to House | 40 | 111 | 30 | Teleport | Standard | Transports the caster to his or her player-owned house. |
| | Earth Blast | 53 | 143 | 31.5 | Combat | Standard | Maximum of 15 damage per cast. |
| | Earth Wave | 70 | 175 | 40 | Combat | Standard | Maximum of 19 damage per cast. |
| | Earth Surge | 90 | 1107 | 48.5 | Combat | Standard | Maximum of 23 damage per cast. |
Staves

 Staff (+4) •  Magic (+10) •  White (+10) •  Air (+10) •  Water (+10) •  Earth (+10) •  Fire (+10) •  Bryophyta's (+15) •  Ancient (+15) •  Slayer's (e) (+12) •  Iban's (u) (+10) •  Toktz-mej-tal (+15) •  Ahrim's (+15) •  Staff of the dead (toxic) (+17) •  Staff of light (+17) •  Zuriel's (+18)

Battlestaves

 Battlestaff (+10) •  Air (+10) •  Water (+10) •  Earth (+10) •  Fire (+10) •  Lava (or) (+10) •  Mud (+10) •  Steam (or) (+10) • Smoke (+10) •  Mist (+10) •  Dust (+10)

Mystic staves

 Air (+10) •  Water (+10) •  Earth (+10) •  Fire (+10) •  Lava (or) (+10) •  Mud (+10) •  Steam (or) (+10) • Smoke (+10) •  Mist (+10) •  Dust (+10)

Tridents

 Starter staff (+10)  Trident of the seas (e) (+15) •  Trident of the swamp (e) (+25) •  Sanguinesti staff (+25) •  Dawnbringer (+25)

Wands

 Beginner (+5) •  Apprentice (+10) •  Teacher (+15) •  Master (+20) •  3rd age (+20) •  Kodai (+28)

Croziers

 Ancient (+10) •  Armadyl (+10) •  Bandos (+10) •  Guthix (+10) •  Saradomin (+10) •  Zamorak (+10)

Other

 Broken (+0) •  Staff of armadyl (+0) •  Cursed goblin staff (+0) •  Skull sceptre (i) (+4) •  Dramen (+10) •  Lunar (+13) •  Rod of ivandis (+4) •  Ivandis flail (+8) •  Thammaron's sceptre (+20) •  Pharaoh's sceptre (+10) •  Void knight mace (+8)