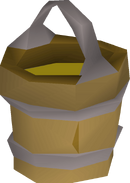 Dwarf brew is a potent spirit made by Kamen. It is used in the later stages of the Underground Pass quest. It is obtained by using an empty bucket on a barrel behind Klank's house, found deep inside the underground pass.
The brew is used to light a pyre over the tomb of Iban, cremating his remains and turning them into Iban's ashes which must then be used on the doll of iban to create his effigy.
This is the same beverage that Kamen offers to the player, causing them to lose 3-5 hitpoints and a few Agility levels if they accept.
Misc.

 Bucket •  Water •  Milk •  Apple mush •  Chocolatey milk •  Compost •  Supercompost •  Ultracompost •  Sand •  Sap •  Slime •  Wax •  Bailing •  Sandworms •  Wester sand

Quest items

 Weird gloop •  Full bucket •  Dwarf brew •  Hangover cure •  Rubble •  Magic glue •  Enchanted milk •  Milky mixture •  Ugthanki dung •  Unsanitary swill •  Murky water •  Blessed water •  Water (Rum Deal) •  Empty •  1/5ths full •  2/5ths full •  3/5ths full •  4/5ths full •  Full (Fremennik Trials) •  Frozen •  Bucket (Meiyerditch) •  Water (Meiyerditch)
Community content is available under
CC-BY-SA
unless otherwise noted.