World of Warcraft: Dragonflight - The Loop
Play Sound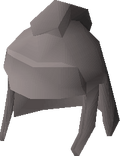 The dwarven helmet is obtained as a reward for completing the quest Grim Tales.
If lost, a replacement can be obtained by talking to Rupert the beard beside Miazrqa's tower, where he was kept prisoner during Grim Tales (between Goblin Village and Ice Mountain), for a fee of 60,000 coins. A Defence level of 50, as well as completion of the quest Grim Tales, is required in order to wear the dwarven helmet.
The dwarven helmet has similar stats to a rune full helm, though it is worth noting that it has a +6 Crush attack bonus, making it the Best in slot for crush attack bonus.
Wearing the helmet inside the Dwarven mines is a hard requirement for the Falador Diary.
NPCs

Sylas • Rupert the Beard • Miazrqa • Grimgnash • Winkin

Monsters

Experiment No.2 • Glod • Mouse

Items

 Magic beans •  Griffin feather •  Miazrqa's pendant •  Door key •  Music sheet •  Shrinking recipe •  To-do list •  Shrunk ogleroot •  Rupert's helmet •  Golden goblin

Reward

 Dwarven helmet

Locations

Music

Related
Standard

| | |
| --- | --- |
| Medium helmets |  Bronze •  Iron •  Steel •  Black •  White •  Mithril •  Adamant •  Rune •  Dragon |
| Full helmets |  Bronze •  Iron •  Steel •  Black •  White (Initiate • Proselyte) •  Mithril •  Adamant •  Rune •  Dragon |

Treasure Trails

| | |
| --- | --- |
| Trimmed | |
| Gold-trimmed |  Bronze •  Iron •  Steel •  Black •  Mithril •  Adamant •  Rune •  Gilded med •  Gilded full •  Dragon |
| Black heraldic | |
| Adamant heraldic | |
| Rune heraldic | |
| Rune god | |

Other

| | |
| --- | --- |
| Slayer helmets |  Regular (imbued) •  Black (imbued) •  Green (imbued) •  Red (imbued) •  Purple (imbued) •  Turquoise (imbued) |
| Fremennik helmets |  Regular •  Warrior •  Berserker •  Rock-shell •  Neitiznot |
| Shayzien helmets | |
| Barrows helmets | |
| Serpentine helmets | |
| Miscellaneous |  Khazard •  Spiny •  Shaman mask •  Black mask •  Ram skull •  Tyras •  Fighter hat •  Void melee •  Granite •  Dwarven •  Obsidian •  3rd age •  Statius's |