Arcane: League of Legends - The Loop
Play Sound
The Easter ring is an untradeable item which, when worn, turns the player into an easter egg. It can be obtained by completing one of the Easter holiday events that occur once per year. This also rewards the player with all other holiday items associated with Easter.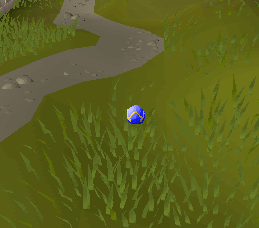 Easter rings were first made available in Old School RuneScape on 22 July 2013, during a period in which rare holiday items would be dropped around Gielinor during the summer rares drop. When the item was picked up, another would spawn in a random location.
Originally the Easter Egg would morph your character into one of several different coloured eggs, but this was removed as it could be used for player-run games of chance.
Birthday

 War ship •  Gnome child hat •  4th birthday hat •  Birthday balloons •  Prop sword

Easter

 Easter egg •  Rubber chicken •  Easter ring •  Easter basket

Midsummer

 Disk of returning •  Half full wine jug •  Druidic wreath •  Mask of balance •  Hornwood helm •  Hand fan

Hallowe'en

 Pumpkin •  Scythe •  Zombie head •  Jack lantern mask •  Grim reaper hood •  Anti-panties •  Hunting knife •  Jonas mask

Christmas

 Christmas cracker •  Yo-yo •  Wintumber tree •  Reindeer hat •  Snow globe •  Sack of presents •  Giant present

Partyhats

 Yellow •  Green •  Red •  White •  Purple •  Blue •  Black •  Rainbow

Santa hats

 Regular •  Black •  Inverted •  Wise Old Man's

Marionettes

Santa outfit

 Mask •  Jacket •  Pantaloons •  Gloves •  Boots

Antisanta outfit

 Mask •  Jacket •  Pantaloons •  Gloves •  Boots

Snow imp costume

Hats and Scarves

| | |
| --- | --- |
| Hats |  Bobble •  Jester •  Tri-jester •  Woolly |
| Scarves |  Bobble •  Jester •  Tri-jester •  Woolly |

Miscellaneous

 Cabbage cape •  Cruciferous codex •  Rainbow scarf •  Runefest shield

| | |
| --- | --- |
| Cat toys |  Tiger •  Lion •  Snow leopard •  Amur leopard |
| Clue hunter outfit | |
Standard

 Opal •  Gold •  Jade •  Topaz •  Sapphire •  Emerald •  Ruby •  Diamond •  Dragonstone •  Onyx •  Zenyte

Enchanted

 Pursuit •  Returning •  Efaritay's aid •  Recoil •  Dueling •  Forging •  Life •  Wealth (imbued) •  Stone •  Suffering (imbued)

Fremennik

 Archers (imbued) •  Berserker (imbued) •  Seers (imbued) •  Warrior (imbued)

Wilderness

 Treasonous (imbued) •  Tyrannical (imbued) •  Ring of the gods (imbued)

Transformation

Other

 Beacon •  Charos (activated) •  Granite (imbued) •  Lunar •  'Perfect' •  Slayer (eternal) •  Stolen garnet •  Visibility