The ectophial is a reward for completing the Ghosts Ahoy quest. Players can empty it, causing them to be teleported to the Ectofuntus outside Port Phasmatys. Once the player teleports, he/she will automatically refill it if you do not interrupt the action by clicking elsewhere. Make sure your Ectophial has been filled before leaving.
If the player loses the Ectophial, they can get a free replacement from Velorina in Port Phasmatys (must have a ghostspeak amulet on) or purchase it from Perdu for 4,600 coins.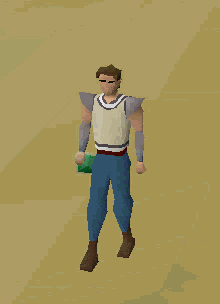 It is widely used in fights to escape because it is easy to replace, costs nothing, and is a one click teleport from your inventory. It also only takes up one space, as opposed to Rune-based teleports, which take up at least two. It is also a popular method of transportation when using fairy rings, as it is just northeast of fairy ring alq.
Like most teleport items, the Ectophial does not work past level 20 Wilderness.
NPCs

Velorina • Necrovarus Ghost disciple • Ghost guard • Ghost innkeeper • Metarialus • Ak-Haranu • Robin • Old crone • Old man • Gravingas • Ghost villager • Haricanto • Pirate captain

Enemies

Items

 Ecto-token •  Book of haricanto •  Translation manual •  Ghostspeak amulet (enchanted) •  Model ship •  Chest key •  Signed oak bow •  Bonemeal •  Bucket of slime •  Bedsheet •  Bedsheet (ectoplasm) •  Petition form •  Bone key •  Mystical robes

Tea

 Nettles •  Nettle-water •  Nettle tea •  Nettle tea (milky) •  Cup of tea (nettle) •  Cup of tea (milky nettle) •  Porcelain cup •  Cup of tea (porcelain) •  Cup of tea (milky porcelain)

Treasure map

 Scrap 1 •  Scrap 2 •  Scrap 3 •  Treasure map

Unobtainable

 Puddle of slime

Rewards

 Ectophial

Locations

Music

Related
Community content is available under
CC-BY-SA
unless otherwise noted.