Ed is an NPC found in the Unmarked Grave west of the Wintertodt Camp. He can be reached by running from the hidden trail north-west corner of the camp.
Speaking to him will reveal that he is searching for the helm of raedwald in order to complete his clue hunter outfit.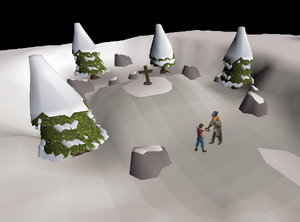 Dialogue
Player: Hello.
Ed: Hello friend.
Player: What are you doing here?

Ed: I'm looking for a helmet. I know it's buried somewhere.
Player: And you think that somewhere is here?
Ed: I don't know. I've tried everywhere else so it might be.
Player: Maybe you're missing something important.
Ed: Maybe you're right. I just don't know anymore.

Player: That's a nice outfit.

Ed: Thank you. I just wish I had the helmet to go with it.

Player: Hey your hair is on fire!
Player: Goodbye.
If the player is wearing the helm of raedwald:
Ed: That helmet! Where did you get it?
Player: I found it.
Ed: Where?
Player: I can't tell you that. It would ruin the fun. You'll have to work it out for yourself.
Ed: Arhhh!
NPCs

Captain Kalt • Cat • Ed • Esther • Ish the Navigator • Ignisia • Pyromancer • Undor • Winter Soldier • Wintertoad

Items

 Bruma root •  Bruma kindling •  Bruma herb • Burning brazier •  Rejuvenation potion (unfinished) • Warm clothing

Rewards