GTA: The Criminal Enterprises - The Loop
Play Sound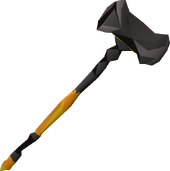 The elder maul is a two-handed crush weapon that requires Attack and Strength levels of 75 to wield. It can be obtained as a possible reward from the Chambers of Xeric.
It is the highest tier crush weapon available in Old School Runescape. It overtakes the godsword as the weapon with the highest strength bonus; however, it lacks a special attack. Despite the strength bonus, Abyssal bludgeon often has higher overall damage output because of its faster attack speed. However, the elder maul's higher accuracy may give it an advantage against targets with high Defence levels, such as Tekton.
Combat styles
Trivia
The elder maul was available from the tournament supplies table in a tournament world during the week of 18 August - 25 August 2016 as a test weapon for players. As it was used solely for testing its power, a magenta Tzhaar-ket-om was used as a graphics placeholder.
Mount Quidamortem

Captain Rimor • Gnosi • Historian Duffy • Mountain Guide • Natural Historian • Stuliette

NPCs (inside)

Items

Fish

 Pysk (raw) •  Suphi (raw) •  Leckish (raw) •  Brawk (raw) •  Mycil (raw) •  Roqed (raw) •  Kyren (raw)

Bats

 Guanic (raw) •  Prael (raw) •  Giral (raw) •  Phluxia (raw) •  Kryket (raw) •  Murng (raw) •  Psykk (raw)

Herblore
Potions

Weak

 Elder (-) •  Twisted (-) •  Kodai (-) •  Revitalisation (-) •  Prayer enhance (-) •  Xeric's aid (-) •  Overload (-)

Standard

 Elder •  Twisted •  Kodai •  Revitalisation •
 Prayer enhance •  Xeric's aid •  Overload

Strong

 Elder (+) •  Twisted (+) •  Kodai (+) •  Revitalisation (+) •  Prayer enhance (+) •  Xeric's aid (+) •  Overload (+)

Texts

 Creature keeper's journal •  Nistirio's manifesto •  Tekton's journal •  Transdimensional notes •  Vanguard judgement •  Houndmaster's diary •  Dark journal

Miscellaneous

 Kindling •  Empty gourd vial (water-filled) •  Keystone crystal •  Cavern grubs •  Medivaemia blossom •  Mallignum root plank

Rewards

Melee

 Dragon sword •  Dragon claws •  Elder maul

Ranged

 Dragon hunter crossbow •  Dragon thrownaxe •  Twisted bow •  Twisted buckler

Magic

Prayer scrolls

Other

 Dinh's bulwark •  Dragon harpoon •  Dark relic •  Ancient tablet •  Olmlet

Challenge Mode

| | |
| --- | --- |
| Pet transmogs |  Metamorphic dust •  Puppadile •  Tektiny •  Vanguard •  Vasa Minirio •  Vespina |
| Capes |  Xeric's guard •  Xeric's warrior •  Xeric's sentinel •  Xeric's general •  Xeric's champion |
Mace

 Bronze •  Iron •  Steel •  Black •  White •  Ancient •  Mithril •  Adamant •  Rune •  Tzhaar-ket-em •  Dragon

Warhammer

 Bronze •  Iron •  Steel •  Black •  White •  Mithril •  Adamant •  Rune •  Granite •  Dragon •  Statius's

Cane
Kitchen weaponry
Maul

 Gadderhammer •  Hill giant club •  Granite maul •  Tzhaar-ket-om •  Elder maul

Mjolnir

Other

 Barrelchest anchor •  Viggora's chainmace •  Verac's flail •  Torag's hammers •  Abyssal bludgeon