Queen Ellamaria Remanis is the Queen of Misthalin, ruling alongside her husband, King Roald Remanis III in the capital city of Varrock. Players may start the Garden of Tranquility quest by speaking with her, in which players must find rare seeds, plants, and other decorative items for her garden. It is revealed during the quest from the Wise Old Man in Draynor Village that, before becoming a queen, Ellamaria was once a peasant, working as a barmaid in the Blue Moon Inn in southern Varrock, and not related to any royalty what-so-ever. Despite her humble beginnings, Ellamaria now looks down on all commoners and adventurers, acting very haughty. King Roald seems to be extremely afraid of her because of her short temper.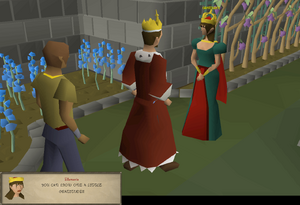 NPCs

Ellamaria • King Roald • Wise Old Man • Dantaera • Brother Althric • Lyra • Kragen • Elstan • Bernald • Billy, a guard of Falador • Bob, another guard of Falador • PKMaster0036 • Charos

Items

 Ring of charos (a) •  List •  Rune shards •  Rune dust •  Plant cure •  Trolley •  White tree fruit •  Compost potion

Seeds

 Delphinium •  Pink orchid •  Pink rose •  Red rose •  Snowdrop •  Vine •  White rose •  White tree shoot •  White tree sapling •  Yellow orchid

Related
Community content is available under
CC-BY-SA
unless otherwise noted.