Woodcutting Guild Wilderness
Ents are monsters found in the dungeon beneath the Woodcutting Guild and in the forests north and east of the Chaos Temple.
Upon death, their remains can be chopped to give noted logs according to the player's Woodcutting level. If players have 75 Woodcutting and above, they will receive magic logs often. Players will also have a chance to receive a bird nest while chopping the ent trunk. Players get better kinds of logs when using a rune or dragon axe. While cutting the trunk, players get 25 experience per noted log no matter the type. Ents are found on members' worlds exclusively.
It was observed that, even when stat boosts and dragon axes are used, ents do not drop yew logs at or below level 60 Woodcutting; only at 61+ Woodcutting (unboosted) are yews very commonly chopped.
Completing the medium section of the Wilderness diaries increases the speed of chopping ent trunks when in the Wilderness.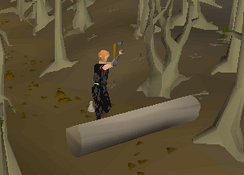 Drops
Ents in the Wilderness will give twice as many logs as those in the Woodcutting Guild.
Trivia
Even if the player already has a full inventory including notes of every log type possible from ents, attempting to chop an ent trunk will yield the usual message, "Your inventory is too full to carry any more logs."
Bosses

Callisto • Chaos Elemental • Chaos Fanatic • Crazy archaeologist • King Black Dragon
Scorpia (Offspring)(Guardian) • Venenatis • Vet'ion (Skeleton Hellhound) (Greater Skeleton Hellhound)

Other monsters

Elder Chaos druid • Ent • Green dragon • Lava dragon • Mammoth • Revenant • Runite Golem

Rewards

Shields

 Malediction ward(or) • (Shard 1) • (Shard 2) • (Shard 3)
 Odium ward(or) • (Shard 1) • (Shard 2) • (Shard 3)

Rings

 Ring of the gods (imbued) •  Treasonous ring (imbued) •  Tyrannical ring (imbued)

Boss pets

 Prince black dragon •  Pet chaos elemental •  Callisto cub
 Venenatis spiderling •  Vet'ion jr. •  Scorpia's offspring

Other

 Fedora •  Dragon pickaxe •  Amulet of eternal glory •  Wilderness Rogues' Chests •  Ancient crystal •  Ancient artefacts •  Mysterious emblem