Raise a Floppa - The Loop
Play Sound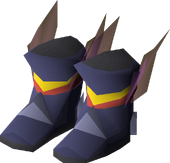 Eternal boots are boots that require level 75 Magic and Defence to wear. They currently have the highest magic attack bonus and highest magic defence of any pair of boots.
They can be created by using an eternal crystal with a pair of infinity boots, requiring level 60 in both Runecrafting and Magic (cannot be boosted). This grants the player 200 experience in both skills.
Trivia
The design and stats of the boots are partially based on the RuneScape 3's ragefire boots prior to the Evolution of Combat update.
Upon release, the vamps on the eternal boots included some extra graphical features, but were removed in an update the week after due to problems caused by the model's polygon count.
Despite being magic equipment, Eternal boots are one of the few pairs of boots which provide ranged protection.
Melee

 Rock-shell •  Bronze (Fighting • Fancy) •  Iron •  Steel •  Black •  White •  Mithril •  Adamant •  Samurai •  Rune (Gilded) •  Granite •  Dragon (g) •  Bandos •  Guardian •  Primordial

Ranged

 Spined •  Leather •  Frog-leather •  Snakeskin • Blessed •  Ranger •  Pegasian

Magic

 Skeletal •  Ghostly •  Moonclan •  Splitbark •  Wizard •Mystic •  Darkness •  Infinity •  Lunar •  Eternal

Other

 Antisanta •  Builder's • Canifis •  Chicken •  Climbing •  Clue hunter •  Desert •  Devout •  Evil chicken •  Fremennik • Fremennik sea •  Gardening • Gnome •  Graceful •  Gravedigger •  H.A.M. •  Holy •  Insulated •  Lightness •  Mime •  Mourner •  Pirate •  Rogue •  Runner •  Santa • Shayzien•  Shoes •  Silly jester •  Skeleton •  Slave •  Spiked •  Zombie

Experience-boosting

 Angler •  Farmer's •  Lumberjack •  Prospector •  Pyromancer
NPCs

Unique drops

 Primordial crystal •  Eternal crystal •  Pegasian crystal •  Smouldering stone •  Key master teleport •  Jar of souls •  Hellpuppy

Equipment

| | |
| --- | --- |
| Boots |  Primordial boots •  Eternal boots •  Pegasian boots |
| Tools | |

Other
Hats

 Void (+0) •  Elemental (+0) •  Mind (+0) •  Wizard(t)(g) (+2) •  Wizard(t)(g) (+2) •  Skeletal (+2) •  Xerician (+3) •  Gnome (+3) •  Canifis (+3) •  Fremennik (+3) •  Splitbark (+3) •  Ghostly (+3) •  Lunar (+3) •  Slayer helmet (i) (+3) •  Mystic (+4) •  Enchanted (+4) •  Darkness (+4) •  Mitre (+4) •  Elder (+5) •  Infinity (+6) •  Ahrim's (+6) •  Farseer (+6) •  Healer (+6)•  Third age (+8)•  Ancestral (+8) •  Zuriel's (+8)

Robe tops

 Void (+0) •  Zamorak (+2) •  Wizard (t)(g) (+3) •  Black(t)(g) (+3) •  Vestment (+4) •  Ghostly (+5) •  Skeletal (+8) •  Elder (+10) •  Splitbark (+10) •  Lunar (+10) •  Xerician (+12) •  Mystic (+20) •  Enchanted (+20) •  Darkness (+20) •  Infinity (+22) •  Third age (+24) •  Ahrim's (+30) •  Ancestral (+35) •  Zuriel's (+35)

Robe legs

 Void (+0) •  Blue(t)(g)(+0) •  Black (t)(g) (+0) •  Zamorak (+2) •  Ghostly (+4) •  Vestment (+4) •  Skeletal (+6) •  Elder (+6) •  Splitbark (+7) •  Lunar (+7) •  Xerician (+8) •  Mystic (+15) •  Enchanted (+15)•  Darkness (+15) •  Infinity (+17) •  Third age (+19) •  Ahrim's (+22) •  Ancestral (+26) •  Zuriel's (+25)

Gloves

 Void (+0) •  Skeletal (+0) •  Hardleather (+1) •  Bronze (+1) •  Splitbark (+2) •  Ghostly (+2) •  Iron (+2) •  Steel (+2) •  Mystic (+3) •  Darkness (+3) •  Combat bracelet (+3) •  Regen bracelet (+3) •  Black (+3) •  Mithril (+3) •  Lunar (+4) •  Adamant (+4) •  Rune (+4) •  Infinity (+5) •  Dragon (+5) •  Barrows (+6) •  Tormented bracelet (+10)

Boots

 Skeletal (+0) •  Splitbark (+2) •  Ghostly (+2) •  Lunar (+2) •  Mystic (+3) •  Darkness (+3) •  Wizard (+4) •  Infinity (+5) •  Eternal (+8)

Capes

 Vestment cloak (+1) • Fire cape (+1) • Infernal cape (+1) •  Ardougne cloak 1 (+2) •  Ardougne cloak 2 (+4) •  Ghostly cloak (+5) •  Ardougne cloak 3 (+5) •  Ardougne cloak 4 (+6) •  God capes (+10) •  Imbued god capes (+15)

Amulets

 Stole (+2) •  Accuracy (+4) •  Power (+6) •  Magic (t) (+10) •  Glory (t) (+10) •  Fury (or) (+10) •  Occult(or) (+12) •  Third age (+15)

Rings

Shields

 Broodoo shield (+3) •  Book of balance (+4) •  Unholy book (+8) •  Tome of fire (+8) •  Book of darkness (+10) •  Malediction ward (+12) •  Ancient wyvern shield (+15) •  Mage's book (+15) •  Arcane spirit shield (+20)