GTA: The Criminal Enterprises - The Loop
Play Sound
The Explorer's ring 2 is a reward from completing the medium Lumbridge & Draynor Diary. The ring is received from Hatius Cosaintus in Lumbridge, and can be retrieved from him for free if lost.
Whenever the teleport or energy restore functions are used, a message appears in the player's chatbox displaying how many uses are left for that day.
Benefits
From Explorer's ring 1
Cast Low Level Alchemy (requires Magic level 21) without using any runes 30 times per day (however, does not grant any Magic XP for casting)
50% run energy replenish twice a day.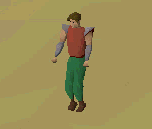 Explorer's ring 2 only
50% run energy replenish 3 times a day.
Teleport to cabbage patch near Falador farm three times a day.
Access to Draynor Village wall shortcut.
Trivia
On release, the ring did not display how many uses are left for teleporting or energy restoring after using. This was added with an update on 7 December 2017.