Fire Emblem Warriors: Three Hopes - The Loop
Play Sound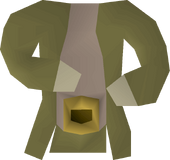 The exquisite clothes are a quest item used during The Giant Dwarf quest. Vermundi will make them for 200 coins once the player helps her repair her steam-powered sewing machine with coal, logs, and a tinderbox. Along with the repaired Dwarven battleaxe and the Exquisite boots, they serve as clothing for the model of the new Giant Dwarf statue.
Once the player has obtained the clothes, they can be delivered to Riki the sculptor's model.
If the player attempts to wear them, they receive the message: "These clothes are too small for me, I might ruin them if I put them on. I'd better take them to the sculptor instead."
If they are lost, they can be obtained from Vermundi for 200 coins.
NPCs

Dwarven Boatman • Vermundi • Santiri • Thurgo • Reldo • Saro • Dromund • Dromund's cat • Librarian

Black Guard

Sculptor's shop

Mining Directors

Blue Opal • Brown Engine • Green Gemstone • Purple Pewter • Red Axe • Silver Cog • White Chisel • Yellow Fortune

Mining Secretaries

Blue Opal • Brown Engine • Green Gemstone • Purple Pewter • Red Axe • Silver Cog • White Chisel • Yellow Fortune

Items

 Book on costumes •  Dwarven battleaxe •  Exquisite clothes •  Left boot •  Right boot •  Exquisite boots •  Meeting notes

Locations

Music

Miscellaneous