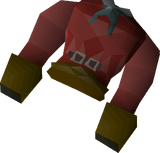 The Farmer's shirt is acquired from the Tithe Farm in exchange for 150 points. The shirt grants 0.8% bonus Farming experience when worn. This piece can only be equipped by female players.
The farmer's shirt will transform into a farmer's jacket when a player attempts to equip it after changing their gender via the Make-over mage.
Trivia
Upon release, the farmer's shirt weighed 9 kg. This was changed to 0.9 in an update the next week.
fixed
Woodcutting

Lumberjack outfit •  Hat •  Top •  Legs •  boots

Mining

Prospector kit •  Helmet •  Jacket •  Legs •  Boots

Fishing

Angler's outfit •  Hat •  Top •  Waders •  Boots • Angler gloves|alt=Gloves

Farming

Farmer's outfit •  Strawhat •  Jacket (Shirt) •  Boro trousers •  Boots

Firemaking

Pyromancer outfit •  Hood •  Garb •  Robe •  Boots