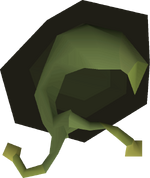 Fat snails are dropped by Bruise blamish snails and Blood blamish snails in Mort Myre Swamp. They can be cooked at level 22 to make fat snail meat, a food item, giving 95 experience and healing 7-9 hitpoints. These snails can be used for the activity, Temple Trekking.
It may also be used in Fairytale I - Growing Pains as a quest item for magic secateurs.
There is a right-click option to 'Grind' the fat snail. This is used to produce Blamish snail slime used in the Blamish oil for the quest, Heroes' Quest. You are required to have a sample bottle in your inventory to collect it.
Dropping monsters