GTA: The Criminal Enterprises - The Loop
Play Sound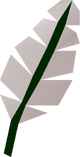 Feathers are used in the Fishing and Fletching skills. In Fishing, feathers are used as lures for fly fishing. Feathers may also be used as bait for barbarian heavy-rod fishing, as a cheaper alternative to fishing bait. In Fletching, feathers are used to make arrows, darts, and bolts. Feathers are not notable, as they stack in your inventory.
These are the only feathers that can be used to summon a newtroost during the Creature Creation activity in the Tower of Life, as coloured feathers are not accepted by the altar.
Obtaining feathers
Feathers can be bought at a number of stores across Gielinor including Gerrant's Fishy Business, which is located in Port Sarim, and can also be obtained as drops from many monsters, most notably chickens, which drop them in amounts of 5, 10, and 15. They can of course also be bought from players.
Coloured feathers can be acquired from snaring birds using the Hunter skill.
Shops containing feathers also have feather packs added beside them of which allows players to purchase up to 100 feathers at a time within the package. Fishing shops charge 200 coins for a pack, which is the same cost as buying them individually at full stock.
Dropping monsters
Coloured feathers
Quest feathers

 Bronze feather •  Eagle feather •  Fire feather •  Golden feather (Eagles' Peak) •
 Golden feather (Priest in Peril) •  Griffin feather •  Magic gold feather •  Metal feather •  Phoenix feather •  Silver feather

Other
Strings

Logs

 Regular •  Oak •  Willow •  Maple •  Achey •  Yew • Magic •  Redwood

Unstrung bows

| | |
| --- | --- |
| Unstrong shortbows | |
| Unstrung longbows | |

Wooden shields

Arrows

 Arrow shaft •  Feather •  Headless arrow •  Bronze arrowtips •  Iron arrowtips •  Steel arrowtips •  Mithril arrowtips •  Broad arrowheads •  Adamant arrowtips •  Rune arrowtips •  Amethyst arrowtips •  Dragon arrowtips

Javelins

 Javelin shaft •  Bronze javelin heads •  Iron javelin heads •  Steel javelin heads •  Mithril javelin heads •  Adamant javelin heads •  Rune javelin heads •  Amethyst javelin heads •  Dragon javelin heads

Ballistae

 Ballista limbs •  Ballista spring •  Light frame •  Heavy frame •  Monkey tail •  Incomplete light ballista •  Incomplete heavy ballista •  Unstrung light ballista •  Unstrung heavy ballista

Ogre bows

 Ogre arrow shaft •  Flighted ogre arrow •  Wolfbone arrowtips •  Unstrung comp bow

Crossbow stock

 Wooden •  Oak •  Willow •  Teak •  Maple •  Mahogany •  Yew •  Magic

Crossbow limbs

 Bronze •  Blurite •  Iron •  Steel •  Mithril •  Adamantite •  Runite •  Dragon

Unstrung crossbows

 Bronze •  Blurite •  Iron •  Steel •  Mithril •  Adamant •  Runite •  Dragon

Unfinished bolts

 Bronze •  Blurite •  Silver •  Iron •  Steel •  Mithril •  Broad •  Adamant •  Runite •  Dragon

Bolt tips

 Opal •  Jade •  Pearl •  Red topaz •  Sapphire •  Emerald •  Ruby •  Diamond •  Amethyst •  Dragonstone •  Onyx

Dart tips