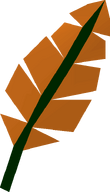 The fire feather is a quest item dropped by the Entrana firebird. Players need to obtain the fire feather as part of Heroes' Quest. In order to pick up the feather, the player must be wearing the Ice gloves. After Heroes' Quest is completed, the fire feather cannot be re-obtained. If a player tries to pick up the fire feather before starting Heroes' Quest, they will receive the message: "It looks dangerously hot, and you have no reason to take it."
It is impossible to telegrab this item, even if the player is wearing the ice gloves. When a player attempts to telegrab the feather, they will receive the message: "I can't use Telekinetic Grab on this object.".
Coloured feathers
Quest feathers

 Bronze feather •  Eagle feather •  Fire feather •  Golden feather (Eagles' Peak) •
 Golden feather (Priest in Peril) •  Griffin feather •  Magic gold feather •  Metal feather •  Phoenix feather •  Silver feather

Other
NPCs

Achietties • Gerrant • Katrine • Grubor • Trobert • Straven • Alfonse the waiter • Charlie the cook • Garv

Enemies

Items

 Blamish snail slime •  Blamish oil •  Oily fishing rod •  Lava eel (raw) •  Id papers •  Miscellaneous key •  Grip's keyring •  Pete's candlestick •  Thieves' armband •  Ice gloves •  Fire feather

Related
Community content is available under
CC-BY-SA
unless otherwise noted.