New Pokemon Games - The Loop
Play Sound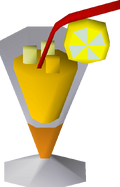 A fruit blast can be made by mixing 1 pineapple, 1 orange and 1 lemon. You must then finish the cocktail by adding lemon slices as a garnish. A fruit blast requires level 6 Cooking to complete and heals 9 HP.
The fruit blast can also be mixed with ashes to create a dirty blast which is a requirement for the cooks assistant section of Recipe for Disaster.
The ingredients (not including a cocktail shaker, a cocktail glass or a knife) cost 8 coins.
NOTE: A Premade fr' blast will NOT work for the quest Recipe for Disaster, as players need to make their own. Purchasing a fruit blast from the Grand Exchange will work.

Obtaining the ingredients:
All the ingredients required can be found at Funch's Fine Groceries near Tree Gnome Village
Cocktails

| | |
| --- | --- |
| Self-made |  Fruit blast (mixed) •  Dirty blast •  Pineapple punch (mixed) •  Wizard blizzard (mixed) •  Short green guy (mixed) •  Drunk dragon (1 • 2 • 3) •  Chocolate saturday (1 • 2 • 3) •  Blurberry special (mixed) |
| Pre-made |  Fruit blast •  Pineapple punch •  Wizard blizzard •  Short green guy •  Drunk dragon •  Chocolate saturday •  Blurberry special |

Crunchies

| | |
| --- | --- |
| Self-made |  Toad (Half made • Unfinished) •  Spicy (Half made • Unfinished) •  Worm (Half made • Unfinished) •  Chocolate chip (Half made • Unfinished) •  Raw •  Half baked •  Burnt |
| Pre-made |  Toad •  Spicy •  Worm •  Chocolate chip |

Battas

| | |
| --- | --- |
| Self-made |  Fruit (Half made • Unfinished) •  Toad (Half made) •  Worm (Half made • Unfinished) •  Vegetable (Half made • Unfinished) •  Cheese & tomato (Half made • Unfinished) •  Raw •  Half baked •  Burnt |
| Pre-made |  Fruit •  Toad •  Worm •  Vegetable •  Cheese & tomato |

Bowls

| | |
| --- | --- |
| Self-made |  Worm hole (Half made • Unfinished) •  Veg ball (Half made • Unfinished) •  Tangled toad's legs (Half made) •  Chocolate bomb (Half made • Unfinished) •  Raw •  Half baked •  Burnt |
| Pre-made | |

Ingredients

| | |
| --- | --- |
| Supplies |  Cocktail guide •  Cocktail shaker •  Cocktail glass •  Gianne's cook book •  Gianne dough •  Batta tin •  Crunchy tray •  Gnomebowl mould |
| Drinks | |
| Fruits |  Lemon •  Lemon chunks •  Lemon slices •  Orange •  Orange chunks •  Orange slices •  Pineapple •  Pineapple chunks •  Pineapple ring •  Lime •  Lime chunks •  Lime slices |
| Additional |  Dwellberries •  Equa leaves •  Pot of cream •  Swamp toad •  Toad's legs •  King worm •  Gnome spice |