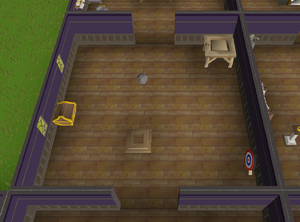 For a list of all items and upgrades within the Construction skill, see Construction/All milestones.
The games room in a player-owned house is a place to play games and have fun. This room can be created at 30 Construction, costing 25,000 coins. Players who win at one of these game may obtain a prize key, which can be used to receive a reward from the prize chest.
There are 5 hotspots available to build games:
Stone - Two players have serperate combat stones, first one to break the stone is the winner, pieces of this stone may come off and deal damage to the player.
Ranging game - Three different games that test the Ranged skill. The Dartboard and Archery Target require the players to bring their own ranged equipment.
Elemental balance - Players are to use the elemental spells (air, earth, fire and water) to balance the colour of the orb white.
Prize chest - Contains prizes for the winner of the games.
Game - Various games (jester, treasure hunt, and hangman) that do not test a skill, but are there for your enjoyment.
Stone
Ranging game
Dartboard and Archery target require a ranging weapon to use.
Elemental balance
Staves can not be used to substitute runes to build any elemental balance.
Prize chest
Prize chests have a limit on how much you can deposit for the winner:
Oak prize chest = 500 coins
Teak prize chest = 1,000 coins
Mahogany prize chest = 1,500 coins
Game
Complete room
To build this room at the highest furniture possible at level 81 Construction, players will need a total of: 4 marble blocks, 1 gold leaf, 4 mahogany planks, 18 teak planks, 9 steel bars, 2000 air runes, 2000 earth runes, 2000 fire runes and 2000 water runes.

 Garden •

 Parlour •

 Kitchen •

 Dining Room •

 Workshop •

 Bedroom •

 Skill Hall •

 Games room •

 Combat Room •

 Quest Hall •

 Menagerie •

 Study •

 Costume Room •

 Chapel •

 Portal Chamber •

 Formal Garden •

 Throne Room •

 Oubliette •

 Superior Garden •

 Dungeon •

 Treasure Room •

 Achievement Gallery
Attack Stones

Magical Balance

Magical Games

Prize Chests

Ranging Games
Community content is available under
CC-BY-SA
unless otherwise noted.