World of Warcraft: Dragonflight - The Loop
Play Sound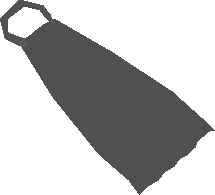 The ghostly cloak is a piece of members only armour. Players can obtain one after speaking to Viggora during the Curse of the Empty Lord miniquest. The cloak, according to Viggora, is supposedly drenched "in the blood of a thousand foes."
There are no requirements to wear (though the requirements and completion of Desert Treasure must be met first) and, when worn with the other pieces, the player appears transparent. Multiple pieces may be obtained through the drop trick.
If lost after obtaining it, it can be purchased from Perdu for 15,000 coins.
Equipment

 Ghostly hood •  Ghostly robe top •  Ghostly robe bottom •  Ghostly gloves •  Ghostly boots •  Ghostly cloak •  Shadow sword

Ghosts

Other

Ghostly Robes (miniquest) • Shadow Sword (miniquest) • Ring of visibility • Ghostspeak amulet
Regular capes

 Red •  Black •  Blue •  Yellow •  Green •  Purple •  Orange •  Pink

Combat capes

 Legends • Fire (max) • Infernal (max) •  Moonclan •  Lunar •  Mythical •  Obsidian (r) •  Saradomin (max) •  Saradomin (i) (max) •  Zamorak (max) •  Zamorak (i) (max) •  Guthix (max) •  Guthix (i) (max) •  Team •  Team i •  Team x •  Team zero

Capes of Accomplishment

 Agility •  Attack •  Hitpoints •  Construction •  Cooking •  Crafting •  Defence •  Farming •  Firemaking •  Fishing •  Fletching •  Herblore •  Hunter •  Magic •  Mining •  Prayer •  Ranging •  Runecrafting •  Slayer •  Smithing •  Strength •  Thieving •  Woodcutting •  Quest point •  Achievement diary •  Music •  Max

Cloaks

 3rd age •  Clue hunter •  Ghostly •  H.A.M. •  Mourner •  Saradomin •  Zamorak •  Guthix  Bandos •  Armadyl •  Ancient •  Saradomin team •  Zamorak team •  Ardougne cloak (max)

Fremennik cloaks

 Cyan •  Brown •  Blue •  Green •  Red •  Grey •  Yellow •  Teal •  Purple •  Pink •  Black

Others

 Ava's attractor •  Ava's accumulator (max) •  Ava's assembler (max) •  Bonesack •  Cabbage •  Champion's •  Deadman's •  Diving apparatus •  Eagle •  Explorer backpack •  Spotted •  Spottier