Fire Emblem Warriors: Three Hopes - The Loop
Play Sound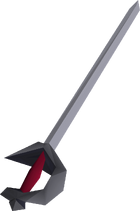 The Ghrazi rapier is a stab weapon and is obtained as a rare drop from the Theatre of Blood. It requires level 75 Attack to wield.
The Ghrazi rapier provides the highest strength and stab bonus out of any weapon for its attack speed. In addition to not degrading unlike the Abyssal tentacle, this makes the rapier the melee weapon with the highest damage output for general use.
Combat styles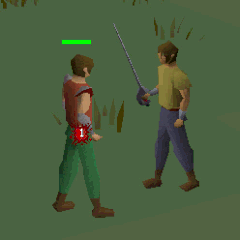 Trivia
The name of this weapon refers to House Ghrazi, a vampyre house known for their aggression and ferocity in battle.
Dagger

 Bronze •  Iron •  Bone •  Steel •  Black •  White •  Mithril •  Adamant •  Rune •  Toktz-xil-ek •  Dragon •  Abyssal

Sword

 Training •  Wooden •  Bronze •  Iron •  Steel •  Black •  White •  Mithril •  Adamant •  Rune •  Rapier •  Leaf-bladed •  Toktz-xil-ak •  Dragon •  Ghrazi rapier

Spear

 Bronze •  Iron •  Bone •  Steel •  Black •  Mithril •  Adamant •  Rune •  Gilded •  Leaf-bladed •  Dragon •  Guthan's •  Zamorakian •  Vesta's

Hasta

 Bronze •  Iron •  Steel •  Mithril •  Adamant •  Rune •  Gilded •  Zamorakian

Other

 Egg whisk •  Spork •  Kitchen knife •  Wolfbane •  Keris •  Dark •  Glowing
Ver Sinhaza

Abigaila • Harpert • Garth • Mercenary • Meiyerditch citizen • Mysterious Stranger • Vyrelady • Vyrelord • Vyre Orator

NPCs (inside)

Items

 Message •  Dawnbringer •  Verzik's crystal shard

| | |
| --- | --- |
| Books |  Arachnids of vampyrium •  The butcher •  Serafina's diary •  The shadow realm •  The wild hunt •  Verzik vitur - patient record |

Rewards

Music

The Maiden's Sorrow • The Maiden's Anger • Welcome to my Nightmare • The Nightmare Continues • Dance of the Nylocas • Arachnids of Vampyrium • The Dark Beast Sotetseg • Power of the Shadow Realm • Predator Xarpus • Last King of the Yarasa • It's not over 'til... • The Fat Lady Sings • The Curtain Closes