Raise a Floppa - The Loop
Play Sound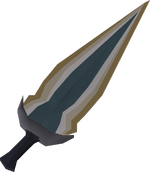 The glowing dagger is a quest item obtained and used during the Legends' Quest.
It is created when players are given the dark dagger by Echned Zekin, requesting them to kill Viyeldi because he was the one that murdered him and wants revenge. Once the dagger is used to kill Viyeldi, it will convert the into a glowing dagger. It must then be taken back to Echned Zekin, who will reveal his true form - the demon Nezikchened.
The glowing dagger has the same combat stats as an iron dagger, only lacking the +4 strength bonus.
If players have misplaced their glowing dagger, it cannot be re-obtained.
Combat styles
Dagger

 Bronze •  Iron •  Bone •  Steel •  Black •  White •  Mithril •  Adamant •  Rune •  Toktz-xil-ek •  Dragon •  Abyssal

Sword

 Training •  Wooden •  Bronze •  Iron •  Steel •  Black •  White •  Mithril •  Adamant •  Rune •  Rapier •  Leaf-bladed •  Toktz-xil-ak •  Dragon •  Ghrazi rapier

Spear

 Bronze •  Iron •  Bone •  Steel •  Black •  Mithril •  Adamant •  Rune •  Gilded •  Leaf-bladed •  Dragon •  Guthan's •  Zamorakian •  Vesta's

Hasta

 Bronze •  Iron •  Steel •  Mithril •  Adamant •  Rune •  Gilded •  Zamorakian

Other

 Egg whisk •  Spork •  Kitchen knife •  Wolfbane •  Keris •  Dark •  Glowing
NPCs

Legends guard • Radimus Erkle • Jungle forester • Gujuo • Ungadulu

Enemies

Nezikchened • Ranalph Devere • Irvig Senay • San Tojalon • Viyeldi

Items

 Bull roarer •  Sketch •  Blessed gold bowl •  Holy water •  Binding book •  Yommi tree seeds •  Bravery potion •  Dark dagger •  Glowing dagger •  Holy force

Notes

 Radimus notes •  Scrawled note •  A scribbled note •  Scrumpled note

Crystals

Related