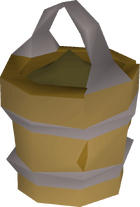 Goat dung is an item used in the quest Making Friends with My Arm. It is obtained by using a bucket on the pile of goat poo in the north-easternmost building in Weiss.
It is given to Snowflake to fertilise two herb patches in Weiss: one for the Weiss trolls to grow goutweed, and another for players to use after the quest, which, like the Troll Stronghhold herb patch, will never be diseased.
Characters

Burntmeat • My Arm • Larry • Wise Old Man • Apothecary

Weiss trolls

Boulder • Butterfly • Don't Know What • Driftwood • Goat Poo • Icicle • Mother • Odd Mushroom • Odd Stone • Pebble • Root • Snowflake • Squirrel • Wolfbone • Yellow Snow

Items

 Reduced cadava potion •  Old man's coffin •  Goat dung •  Weiss fire notes

Rewards

Locations

Music

Barren Land • Lumbering • Mother Ruckus • Snowflake & My Arm • Troll Shuffle

Related
Community content is available under
CC-BY-SA
unless otherwise noted.