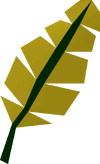 A Golden feather may be obtained by players during the Priest in Peril quest while searching the monuments in the temple's dungeon for an iron key. This feather has no known use, as it cannot be used in Fishing or Fletching. However, players can cast Low Alchemy or High alchemy on it. It cannot be obtained after the quest is complete.
Trivia
If the golden feather is used on the monument with a normal feather, the player will say: "You know... I think I'd rather keep the valuable solid gold feather."
Coloured feathers
Quest feathers

 Bronze feather •  Eagle feather •  Fire feather •  Golden feather (Eagles' Peak) •
 Golden feather (Priest in Peril) •  Griffin feather •  Magic gold feather •  Metal feather •  Phoenix feather •  Silver feather

Other
NPCs

Items

 Iron key •  Murky water •  Blessed water •  Golden key •  Golden feather •  Golden candle •  Golden hammer •  Golden needle •  Golden tinderbox •  Golden pot

Rewards

 Wolfbane

Locations

Music

Miscellaneous
Community content is available under
CC-BY-SA
unless otherwise noted.