REDIRECT Template:Item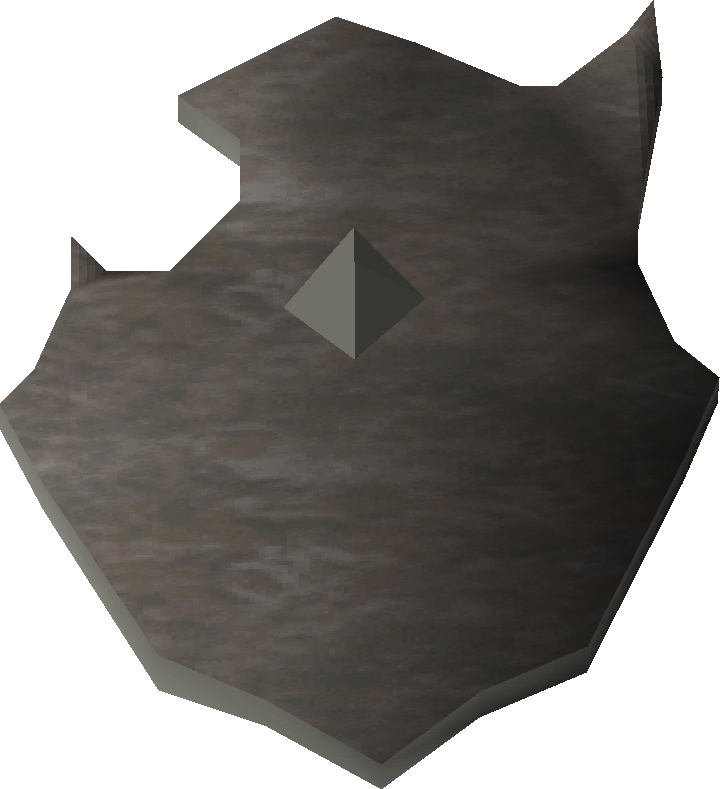 The Granite shield is a shield made of granite. It requires 50 Defence and 50 Strength to equip. It has defensive stats equal to the Toktz-ket-xil, minus the +5 strength bonus, resulting in rare use by high-level players. It is more commonly used than the Rune kiteshield due to its superior ranged defence bonus. However, some players choose not to use it due to its weight and slightly lower melee defence bonuses. Some players simply purchase it because they have a Granite body or other granite equipment.
Although the shield has lower melee defence bonuses than a Rune kiteshield, it has a higher Defence requirement. The granite shield is one of two pieces of the set with weaker melee defence stats (the other being Granite legs) than its rune equivalent.
Like other granite equipment, the granite shield cannot be made from granite with the Smithing skill.
Dropping monsters
|- style="text-align:center;" | style="text-align:left;" | Kraka | 91 | 1 | style="background:#AFEEEE;" | Always |-

|- style="text-align:center;" | style="text-align:left;" | Pee Hat | 91 | 1 | style="background:#AFEEEE;" | Always |-

|- style="text-align:center;" | style="text-align:left;" | Ice troll runt | 74 | 1 | style="background:#FF863C;" | Rare |-

|- style="text-align:center;" | style="text-align:left;" | Ice Troll Male | 82 | 1 | style="background:#FF863C;" | Rare |-

|- style="text-align:center;" | style="text-align:left;" | Ice Troll Female | 82 | 1 | style="background:#FF863C;" | Rare |-

|- style="text-align:center;" | style="text-align:left;" | Stick | 104 | 1 | style="background:#FF863C;" | Rare |-

|- style="text-align:center;" | style="text-align:left;" | Rock | 111 | 1 | style="background:#FF863C;" | Rare |-

|- style="text-align:center;" | style="text-align:left;" | Troll General | 113 | 1 | style="background:#FF863C;" | Rare |-
|}
Weapons
Armour
Other

 Clamp •  Dust •  Cannonball •  Ring (imbued)