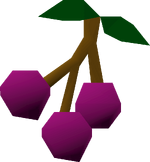 Grapes can be produced through planting grape seeds at the Hosidius House Vinery in Great Kourend, requiring level 36 in Farming and 65% favour with the Hosidius House.
They are an ingredient for making a jug of wine at level 35 Cooking by using them on a jug of water, which grants 200 Cooking experience when fermented after a short period. If fermentation fails, a jug of bad wine will be created instead. Players stop creating jugs of bad wine when they reach 68 Cooking.
A bunch of grapes is also required for Monkey Madness II.
Locations
Dropping monsters
Allotment produce

 Potato •  Onion •  Cabbage •  Tomato •  Sweetcorn •  Strawberry
 Watermelon

Flower produce

 Marigolds •  Rosemary •  Nasturtiums •  Woad leaf •  Limpwurt root

Hops

 Barley •  Hammerstone hops •  Asgarnian hops •  Jute fibre •  Yanillian hops •  Krandorian hops •  Wildblood hops

Bush produce

 Redberries •  Cadava berries •  Dwellberries •  Jangerberries •  White berries •  Poison ivy berries

Tree produce
Fruit tree produce

 Cooking apple •  Banana •  Orange •  Curry leaf •  Pineapple •  Papaya fruit •  Coconut

Special produce

 Giant seaweed •  Grapes •  Zamorak's grapes •  Mushroom •  Cactus spine •  Cave nightshade •  Calquat fruit •  White tree fruit
Community content is available under
CC-BY-SA
unless otherwise noted.