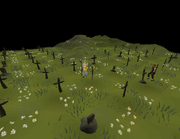 The Graveyard of Heroes is located in the south-western part of Shayzien House in the Kingdom of Great Kourend. It sometimes serves as an organised crime meeting spot for gangsters in which the player hunts down and kills them in order to earn Shayzien favour, but only after reaching 40% favour. Other than that, the graveyard serves no additional purpose.
Those who have added History and hearsay to Kharedst's memoirs (Tale of the Righteous completion required) may teleport here using the book.
Community content is available under
CC-BY-SA
unless otherwise noted.